Dawn of the Senses: Selected Poems of Alberto Blanco (City Lights Pocket Poets) (Paperback)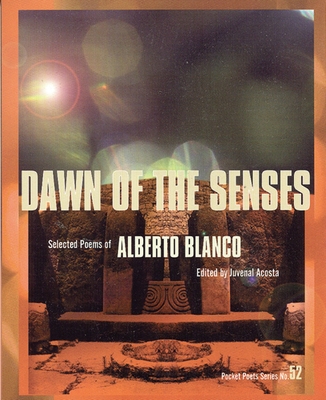 $15.95
This title is likely Out of Print or otherwise unavailable
Description
---
An impressive selection, in bilingual format, from the work of one of Mexico's greatest contemporary writers.
Born in Mexico City in 1951, Alberto Blanco is a dynamic and influential voice in the new poetry of Mexico. A musician, artist, essayist, translator, and storyteller, his poetry explores the connections on frontiers between verbal, visual, and aural experience. He is both an innovator and a classicist, a materialist and a mystic, a visionary and a chronicler of everyday life.
Here his poems converse with their English translations, to create "a singular book...not simply a bilingual edition, but one unified voice, a poetry that speaks of a world far beyond languages and borders," (from the introduction by Jose Emilio Pacheco).
"The meticulous and loving catalog of moments, animals, plants, beings, suns, and nocturnal revelations that this poetry offers us constitutes--in my way of thinking--a terrible oracle, and at last a shout of hope. To say it in a simpler, more direct way, it is a prayer." --Alvaro Mutis
"Alberto Blanco's deep poetry inhabits both the world and the universe of imagination; these poems shed their own light and fly on their own wings." --Michael McClure
Juvenal Acosta is an author who has published fiction, journalism, and poetry. He is now a teacher at the California College of the Arts. His books include The Tattooed Hunter and The Violence of Velvet.
Jos Emilio Pacheco (1939-2014) was a Mexican poet, essayist, novelist and short story writer. He has been regarded as one of the major Mexican poets of the 20th Century.
About the Author
---
Alberto Blanco is a poet, translator, essayist, and visual artist. Born in Mexico City, Blanco studied chemistry, philosophy, and Oriental Studies. He is the author of over 30 books of poetry, including Giros de faros (1979), Dawn of the Senses: Selected Poems (1995), and Afterglow/Tras el rayo (2011). He has also published translations, essay collections on visual art, and children's books. Blanco's work explores the boundaries between aesthetic forms and genres, languages, and verbal and visual registers. Jerome Rothenberg called Blanco "an increasingly significant voice in Mexican and Latin American poetry." W.S. Merwin described how Blanco's poems "have revealed with precision and delicacy an original imaginative landscape, in language and imagery that are at once intimate, spacious, and rooted in the rich ground of Mexican poetry." Blanco's poetry has been translated into over 20 languages. From Poetry Foundation website.