The Non-Toxic Avenger: What You Don't Know Can Hurt You (Paperback)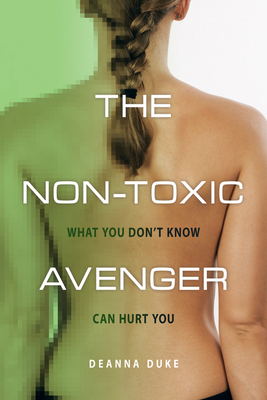 $17.95
This title is likely Out of Print or otherwise unavailable
Description
---
Most of us turn a blind eye to the startling array of chemicals lurking in everything from shampoo to baby bottles to the money in our wallets, choosing to believe that government agencies ensure the safety of the products we wear, use, ingest, and breathe in daily. Yet the standards for product safety in North America lag far behind those of other countries. We frequently hear that a substance we've relied on for years turns out to have serious effects on our health, the environment, or both.
After coming to terms with the fact that the autism and cancer which had impacted her family were most likely the result of environmental toxins, author Deanna Duke undertook a mission to dramatically reduce her family's chemical exposure. She committed to drastically reducing the levels of all known chemicals in both her home and work environments, using the help of body burden testing to see what effect, if any, she was able to have on the level of toxins in her body.
Follow Deanna's journey as she uncovers how insidious and invasive environmental toxins are. Learn about your day-to-day chemical exposure, the implications for your health, and what you can do about it. And find out whether the author's quest is mission impossible, or whether she is ultimately able to improve her family's health by taking steps towards leading a chemical-free life.
Deanna L. Duke is an environmental writer, urban homesteader, and author of the highly acclaimed environmental blog The Crunchy Chicken.
About the Author
---
Deanna Duke: is an environmental writer, urban homesteader, and author of the highly acclaimed environmental blog, The Crunchy Chicken (www.thecrunchychicken.com). The focus of her work is in educating others on environmental issues and explaining how she and her family have not only converted to a low-impact lifestyle, but also reduced their exposure to toxic chemicals in their home, work and school environments. In addition to her blog, Deanna also writes as an Expert Urban Homesteader for Mother Earth News Online and is the Personal Care Consultant for the eco-makeover television show, Mission: Sustainable.
Praise For…
---
Deanna Duke provides wonderful insights in this very personal exploration of the toxic chemicals hidden in every single part of our lives. An important and timely guide to understanding our toxic world. � Bruce Lourie, co-author Slow Death by Rubber Duck

In The Non-Toxic Avenger, Deanna Duke lays out what could otherwise be confusing information in a straightforward, non-hysterical, and relatable way. The beauty of this book is that readers can apply Deanna's nontoxic avenging in small or large ways, taking as tiny or as enormous a step as they like. Either way, it will make readers think a little harder about the things we humans surround, slather, coat, and feed ourselves with. It was an eye-opener for me. � Ree Drummond,author of