The Pastry School: Sweet and Savoury Pies, Tarts and Treats to Bake at Home (Hardcover)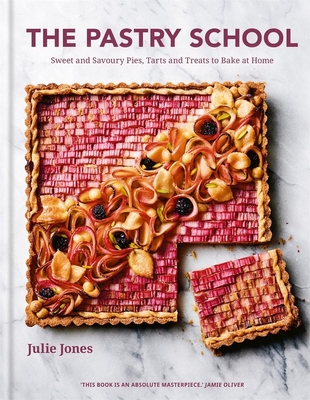 $39.99

Available from our Distributors - Usually arrives in-store in 2-7 days
Description
---
"If you think that Julie Jones's beautiful creations are beyond you, think again.

Jones shares all her tips and tricks as she gently walks you through ten different pastries and gorgeous recipes for sweet and savoury pies and tarts.

It's worth buying the book for the chicken and chorizo pie recipe alone. Absolutely inspiring." - Diana Henry


A masterclass in the art and craft of baking and decoration.
Julie Jones is renowned for her highly decorative bakes packed with bold layers of flavor and texture. She is leading the pastry revival, believing that with a bit of patience and a love for food, anyone can create delicious, beautiful bakes.
A comprehensive Pastry Recipes & Methods section guides you through 10 different types of pastry with step-by-step instructions. These include loved classics such as Shortcrust and Hot Water, as well as a versatile Vegan and Gluten-free, that can be swapped in or out of recipes with a helpful Alternative Pastry Key.
Chapters include Fruit, Cream & Cheese, Nuts, Vegetables, Meat & Fish and Crunch & Crumb, featuring more than 50 sweet and savory recipes ranging from a crowd-pleasing Vegetable Patch(work) Tart to stunning Vanilla Slices.
Dive in and be inspired by Julie's delicate decorations and full-on flavors - these bakes are fun and achievable, with swaps and creativity encouraged.
About the Author
---
Julie Jones has been recognised as one of the UK's most influential bakers thanks to her unique, beautiful pastry creations and her highly creative approach to flavour and decoration. She trained as a chef aged 30 and spent time in a Michelin-starred kitchen honing her skllls. After her mother developed dementia she began baking with her and set up an Instagram feed as a means of documenting her beautiful bakes. With more than 113k followers and an Observer Food Monthly Best Instagram Feed award in 2018, Julie's supper clubs always sell out.


Praise For…
---
If you think that Julie Jones's beautiful creations are beyond you, think again. This is as clear and approachable a cookbook as you could wish for.

Jones shares all her tips and tricks as she gently walks you through ten different pastries and gorgeous recipes for sweet and savoury pies and tarts.


It's worth buying the book for the chicken and chorizo pie recipe alone. Absolutely inspiring.—Diana Henry, -