The Carrier (Hardcover)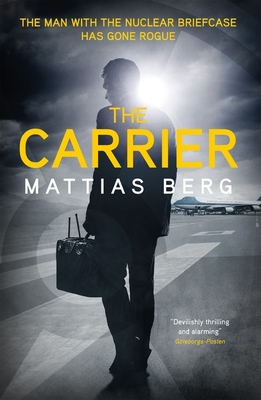 $26.99
On Our Shelves Now - Please call to confirm stock for hot titles
Description
---

Erasmus Levine has a job like no other. He travels with the President of the United States at all times, and holds in his hands the power to obliterate life as we know it.
Levine is the man with the nuclear briefcase, part of a crack team of top-secret operatives established after 9/11, led by a man code- named Edelweiss. But not even Edelweiss knows the identity of their ultimate authority, Alpha.
But Levine has a secret, for years he has been receiving cryptic messages from Alpha, an elaborate communication that began with the words: "we two against the world." Now he's thinking of escape and his chance comes during an official visit to Sweden.
But Alpha has other plans. From their first meeting in a network of tunnels and bunkers beneath the city, Levine is drawn into a plan to eliminate the world's nuclear arsenals. But is controlled demolition really the endgame? Could he be working towards a controlled apocalypse designed to wipe humanity from the face of the earth?
About the Author
---
Mattias Berg was born in Stockholm 1962. He studied journalism and literature, and has been a culture journalist since the late 1980s and worked at major Swedish newspapers, including Dagens Nyheter and Expressen. Since 2002 he has been employed at Swedish Radio, where he for ten years was the head of the C ulture Department. He initiated the highly regarded weekly show Konflikt (Conflict), which blends international current affairs
with culture issues. He lives in Stockholm with his wife and has two grown-up daughters.
Praise For…
---
"What should a thriller do to rise above the ranks of the clichéd? It does no harm to demonstrate some intelligence and (if possible) an engagement with serious issues - but no polemics. Thankfully, Mattias Berg's The Carrier hits those targets squarely"—Barry Forshaw, The Independent

"Enjoyable, ingenious . . . packed with fascinatingly arcane nuclear facts"—Myles McWeeney, Irish Independent

"There are special trained super humans, amazingly transformed by surgery, quick-witted brains, codes and numerology, deceptions... But whilst other agent stories may only have this - spiced with some love in the sunset - The Carrier has more. Much more... Mattias Berg's knowledge in the scientific field is impressive, his storytelling skilled and well-balanced."—Dagens Nyheter

"I don't think I have read such a philosophical, knowledge-studded and realistic adventure novel since Umberto Eco's The Name of the Rose"

—Göteborgs-Posten