The Value of Hawaiʻi 3: Hulihia, the Turning (Biography Monographs) (Paperback)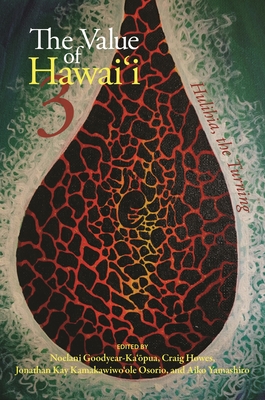 Description
---
"Hulihia" refers to massive upheavals that change the landscape, overturn the normal, reverse the flow, and sweep away the prevailing or assumed. We live in such days. Pandemics. Threats to ʻāina. Political dysfunction, cultural appropriation, and disrespect. But also powerful surges toward sustainability, autonomy, and sovereignty.
The first two volumes of The Value of Hawaiʻi (Knowing the Past, Facing the Future and Ancestral Roots, Oceanic Visions) ignited public conversations, testimony, advocacy, and art for political and social change. These books argued for the value of connecting across our different expertise and experiences, to talk about who we are and where we are going. In a world in crisis, what does Hawaiʻi's experience tell us about how to build a society that sees opportunities in the turning and changing times? As islanders, we continue to grapple with experiences of racism, colonialism, environmental damage, and the costs of modernization, and bring to this our own striking creativity and histories for how to live peacefully and productively together. Steered by the four scholars who edited the previous volumes, The Value of Hawaiʻi 3: Hulihia, the Turning offers multigenerational visions of a Hawaiʻi not defined by the United States. Community leaders, cultural practitioners, artists, educators, and activists share exciting paths forward for the future of Hawaiʻi, on topics such as education, tourism and other economies, elder care, agriculture and food, energy and urban development, the environment, sports, arts and culture, technology, and community life. These visions ask us to recognize what we truly value about our home, and offer a wealth of starting points for critical and productive conversations together in this time of profound and permanent change.
About the Author
---
Noelani Goodyear-Ka'ōpua (Editor) Noelani Goodyear-Ka'ōpua is professor of political science at the University of Hawai'i at Mānoa. Craig Howes (Editor) Craig Howes is director of the Center for Biographical Research and professor of English at the University of Hawai'i at Mānoa. Jonathan Kay Kamakawiwo'ole Osorio (Editor) Jonathan Kay Kamakawiwo'ole Osorio is dean of Hawaiʻinuiākea School of Hawaiian Knowledge and professor at Kamakakūokalani Center for Hawaiian Studies at the University of Hawaiʻi at Mānoa. Aiko Yamashiro (Editor) Aiko Yamashiro is executive director of Hawaiʻi Council for the Humanities.