Work Done Right (Camino del Sol ) (Paperback)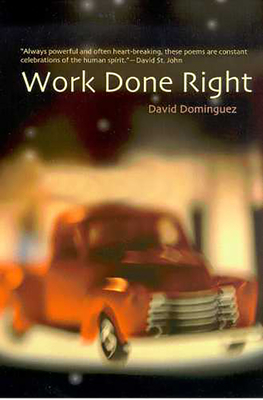 $16.95

Available from our Distributors - Usually arrives in-store in 2-7 days
Description
---
My red pickup choked on burnt oil as I drove down Highway 99. . . . Abraham Tovar is a young man who works in a sausage factory and desperately longs to create a history of his own. As Abraham's life becomes absorbed into the blood and spice of pork, his thoughts explore his ancestry, roam the stars, and reflect upon the despairs and strengths of factory workers who live with "the unyielding memory of pig."

I pulled into Galdini Sausage at noon.
The workers walked out of production
and swatted away the flies desperate for pork.
Pork gripped the men and was everywhere,
in the form of blood, in the form of fat,
and in pink meat that stuck to the workers' shoes.

Work Done Right is a sequence of narrative poems, told with a lyricist's tenderness and an eye for detail, that address the human condition in unexpected ways. David Dominguez explores Abraham's struggle to maintain personal dignity in harsh circumstances, juxtaposing bleak images of the sausage factory with the hope of finding one's true place in the world. Through his sensuously textured words, he pays tribute to people and place as he takes readers on a mystic journey toward redemption.
About the Author
---
David Dominguez's work has appeared in such publications as El Andar and Bloomsbury Review and is included in the anthology How Much Earth: The Fresno Poets. He lives in Fresno and teaches writing and literature at Reedley College.
Praise For…
---
"The startling imagery of 'the unyielding memory of pig' juxtaposed with Dominguez's perceptive insights on humanity create a moving tale of loss and redemption worth multiple readings." —El Paso Times

"There is strong storytelling here within the poetry, with characters that are hard to forget and even gripping plot twists. Highly recommended." —Reforma Newsletter