Refractive Africa (Paperback)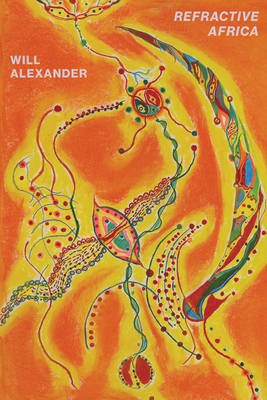 Description
---
Finalist for the Pulitzer Prize

Winner of the California Book Award in Poetry



Three kinetically distilled long poems by the singular American poet who "transfigures 'thought' into a weave of lexical magic" (Philip Lamantia)
"The poet is endemic with life itself," Will Alexander once said, and in this searing pas de trois,
Refractive Africa: Ballet of the Forgotten
, he has exemplified this vital candescence with a transpersonal amplification worthy of the Cambrian explosion. "This being the ballet of the forgotten," he writes as diasporic witness, "of refracted boundary points as venom." The volume's opening poem pays homage to the innovative Nigerian-Yoruban author Amos Tutuola; it ends with an encomium to the modernist Malagasy poet Jean-Joseph Rabearivelo—two writers whose luminous art suffered "colonial wrath through refraction." A tribute to the Congo forms the bridge and brisé vole of the book: the Congo as "charged aural colony" and "primal interconnection," a "subliminal psychic force" with a colonial and postcolonial history dominated by the Occident. Will Alexander's improvisatory cosmicity pushes poetic language to the point of most resistance—incantatory and swirling with magical laterality and recovery.
About the Author
---
A poet, aphorist, playwright, essayist, philosopher, visual artist, and pianist Will Alexander is a native of Los Angeles. The author of nearly thirty books, his honors include a Whiting Fellowship for Poetry, a California Arts Council Fellowship, the PEN/Oakland Josephine Miles Award, a Before Columbus Foundation American Book Award, and the 2016 Jackson Poetry Prize. He is currently the poet-in-residence at Beyond Baroque in Venice, California.
Praise For…
---
It is tempting to label Alexander a surrealist or experimentalist, but he is truly a singular voice. Ultimately, his poetry is rooted in a belief in the transformative powers of language. Will Alexander's body of work reveals the power of a discursive poetics guided by social prerogative.
— citation for the Jackson Poetry Prize

As we spin towards planetary suicide at the hands of oily capitalizers, it will be the prophetic words of poets such as Will Alexander, with their imaginal radiance, which hold any hope of lighting the way to a true alchemical amnesty and new modes of being.
— Dorothy Wang, author of Thinking Its Presence

Cosmological, astrological, philosophical, geological, mathematical, and hypnogogical in scope, Alexander finds concordance in chaotic discord. Like a force of nature, a procession of seamless symbols, the lines roll out as variant strata compress into a
— Jeffrey Cyphers Wright - The Brooklyn Rail

Since the 1980s, the Los Angeles-based Alexander has mixed politics with mesmeric, oracular lines. Here, three long poems evoke colonial Africa.
— Greg Cowles - The New York Times

The collection sings from the page; it celebrates, it prophecises, and it revels in the great spirits of Africa's national heroes and literary giants. Alexander's writing is awash with innovation, ably straddling a world which is all too familiar, and a sparkling one of imagination…
— The Skinny

Compelling and visionary.
— New York Journal of Books

Refractive Africa embraces an aesthetic of sprawl and overreach, summoning free-flowing visions of grandeur and desolation.

— The Guardian

There is likely no poetry more propulsive, visually kinetic, and intricately layered than that composed by Will Alexander…Embodying an intensity of feeling that brims close to overwhelming, these poems bear persuasive witness to the history of Africa, of colonialism, and of Black selfhood and resistance.
— Albert Mobilio - Hyperallergic

The most ambitious book of the year is Will Alexander's Refractive Africa (Granta Poetry), drawing on Nigerian writer Amos Tutuola to reframe the history of Congo and vocalise an energetic resistance to colonialism. Alexander's lines have an unstoppable energy allied to a thrilling phrase-making ability. He can devastate, too: "I appear to the Occidental eye as carbon without consequence". Refractive Africa is a masterpiece, reminding us of poetry's power to change how we feel and think.

— Rishi Dastidar - The Guardian

Alexander's poems disclose new planes of thought that shimmer beyond 'warrens of the visible,' where Black insurrectionaries holler to ancient Dravidians in Safeway parking lots, where a 'vulturous Nile' flows into a 'carnivorous Amazon,' where a species of poisoned marsupials magically rises up from the abyss of the European monetary climate.
— Aditya Bahl - The Nation