Reclaiming Two-Spirits: Sexuality, Spiritual Renewal & Sovereignty in Native America (Paperback)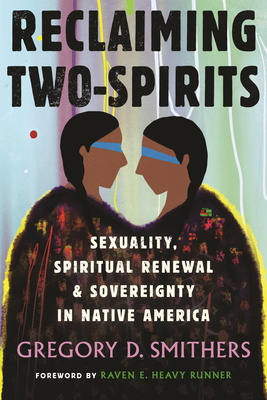 $21.95

Available from our Distributors - Usually arrives in-store in 2-7 days
Description
---
Winner of the 2023 Prose Award in Cultural Anthropology and SociologyFinalist for the 2023 Publishing Triangle Randy Shilts Award for Gay Nonfiction

A sweeping history of Indigenous traditions of gender, sexuality, and resistance that reveals how, despite centuries of colonialism, Two-Spirit people are reclaiming their place in Native nations.

Reclaiming Two-Spirits decolonizes the history of gender and sexuality in Native North America. It honors the generations of Indigenous people who had the foresight to take essential aspects of their cultural life and spiritual beliefs underground in order to save them.

Before 1492, hundreds of Indigenous communities across North America included people who identified as neither male nor female, but both. They went by aakíí'skassi, miati, okitcitakwe or one of hundreds of other tribally specific identities. After European colonizers invaded Indian Country, centuries of violence and systematic persecution followed, imperiling the existence of people who today call themselves Two-Spirits, an umbrella term denoting feminine and masculine qualities in one person.

Drawing on written sources, archaeological evidence, art, and oral storytelling, Reclaiming Two-Spirits spans the centuries from Spanish invasion to the present, tracing massacres and inquisitions and revealing how the authors of colonialism's written archives used language to both denigrate and erase Two-Spirit people from history. But as Gregory Smithers shows, the colonizers failed—and Indigenous resistance is core to this story. Reclaiming Two-Spirits amplifies their voices, reconnecting their history to Native nations in the 21st century.
About the Author
---
Gregory D. Smithers is professor of American history and Eminent Scholar at Virginia Commonwealth University and a British Academy Global Professor at the University of Hull in England. His research focuses on Cherokee and Southeastern Indigenous history, as well as gender, sexuality, racial and environmental history. His books include Native Southerners: Indigenous History from Origins to Removal and The Cherokee Diaspora: An Indigenous History of Migration, Resettlement, and Identity. Follow him at gregorysmithers.com and on Twitter (@GD_Smithers).
Praise For…
---
"Provid[es] deeper insight into the experiences, cultures, and futures of Two-Spirit communities."
—Foreword Reviews

"Smithers' book contains a great many citations and tackles that mythology head-on, as it relates to the roles of Two-Spirit persons in the histories of the Indigenous peoples of the Americas. But Smithers...goes much further, elaborating on the term "Two-Spirit" itself."
—Bay Area Reporter

"…a carefully documented work in tune with the tremendous resilience, creativity, and community-building of LGBT Native Americans in overcoming centuries of European persecution, misinterpretation, and appropriation of Indigenous cultures in general and Native sexual and gender diversity in particular."
—The Gay & Lesbian Review

"From the onset of colonization until well into the present, the discourse and histories of Two-Spirit Indigenous peoples remains a puzzle for Indigenous and non-Indigenous people alike. Reclaiming Two-Spirits will help you solve that puzzle. Using familiar and obscure stories, Smithers skillfully reveals the centrality of Two-Spirit struggles within the matrix of settler colonial domination and the Indigenous struggle for freedom. He reveals the destructive nature of colonial violence and the possibilities of a Two-Spirit future. An original contribution to Indigenous cultural and intellectual histories, an understanding of the links between language and power, and Indigenous futures, this book will not only educate your mind, but will also touch your spirit."
—Kyle T. Mays (Black/Saginaw Chippewa), author of An Afro-Indigenous History of the United States

"Gregory D. Smithers's Reclaiming Two-Spirits sheds welcome light on the deeply misunderstood topic of how Native Americans with diverse sexual and gender identities relate to both their native cultures and the settler societies—they embrace traditional roles that are often disavowed in their native cultures due to the legacy of colonialism, while at the same time resisting conflation with LGBT identities of Eurocentric origin. Smithers' obvious sympathy for his subject, along with his cogent scholarship, engaging storytelling, and lucid prose, makes the complexly contested space that Two-Spirit people occupy accessible and understandable to general audiences of Natives and settlers alike."
—Susan Stryker, author of Transgender History: The Roots of Today's Revolution, and founding co-editor, TSQ: Transgender Studies Quarterly

"Reclaiming Two-Spirits is by far the most compelling study to date of an evolving tradition and way of life that has always operated according to a cultural logic of its own and that we can appreciate fully only by taking that cultural logic seriously. Setting aside Anglo-American assumptions and categories, Smithers has listened closely to Two-Spirit people in the present and to traces of their voices in historical sources. This book is a major contribution to our understanding of Native American cultures and to an authentically diverse history of gender and sexuality."
—Richard Godbeer, author of Sexual Revolution in Early America

"Reclaiming Two-Spirits is the book that we've been waiting for! Finally, a readable and reliable guide to the history of America's Two-Spirit people."
—Rachel Hope Cleves, author of Charity and Sylvia: A Same-Sex Marriage in Early America

"Smithers's Reclaiming Two-Spirits compels readers to rethink gender and sexuality from the nonbinary point of view of Indigenous cultures, which uses gender-neutral and polyvalent words to express an array of identities. Smithers recovers the Two-Spirits who lie hidden beneath the homophobic language of archival records, obliging not only historians but everyone who cares about Indigenous peoples to be more aware of gender biases and how language is a tool of colonization."
—David Martínez (Akimel O'odham/Hia Ced O'odham/Mexican), author of Life of the Indigenous Mind

"Lost teachings are found in this compelling revelation on the complexity of Two-Spirit people. Based on chronicles of Native culture and historical documents, as well as oral histories and interviews, Reclaiming Two-Spirits offers an understanding of how Two-Spirit gives balance in a binary world. A reminder to everyone to have more empathy and compassion."
—Lynette Allston, chief of the Nottoway Indian Tribe of Virginia