Churchill's Shadow Raiders: The Race to Develop Radar, World War II's Invisible Secret Weapon (Hardcover)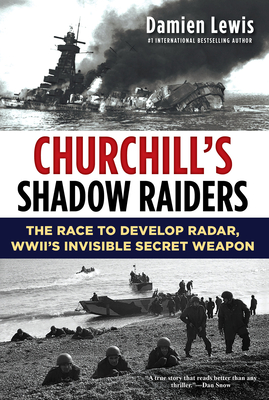 $27.00

Backordered to the Publisher - May not be immediately available! Contact us for more information.
Description
---
From bestselling and award-winning war reporter Damien Lewis and for fans of Erik Larsen's The Splendid and Vile and Alex Kershaw's The Forgotten 500 comes a thrilling account of one of the most daring raids of WWII…the true story of the race to stop Hitler from developing a top-secret weapon that would change the course of history.
 
"One of the most readable World War 2 history books I have read in years"
—We Are the Mighty

In the winter of 1941, as Britain faced defeat on all fronts, an RAF reconnaissance pilot photographed an alien-looking object on the French coast near Le Havre. The mysterious device—a "Wurzburg Dish"—appeared to be a new form of radar technology: ultra-compact, highly precise, and pointed directly across the English Channel. Britain's experts found it hard to believe the Germans had mastered such groundbreaking technology. But one young technician thought it not only possible, he convinced Winston Churchill that the dish posed a unique and deadly threat to Allied forces, one that required desperate measures—and drastic action . . .
 
Capturing the radar on film had been an amazing coup. Stealing it away from under the noses of the Nazis would be remarkable. 
 
So was launched Operation Biting, a mission like no other. An extraordinary "snatch-and-grab" raid on Germany's secret radar installation, it offered Churchill's elite airborne force, the Special Air Service, a rare opportunity to redeem themselves after a previous failed mission—and to shift the tides of war forever. Led by the legendary Major John Frost, these brave paratroopers would risk all in a daring airborne assault, with only a small stretch of beach menaced by enemy guns as their exit point. With the help of a volunteer radar technician who knew how to dismantle the dish, as well as the courageous men and women of the French Resistance, they succeeded against all odds in their act of brazen robbery. Some would die. Others would be captured. All fought with resolute bravery . . .
 
This is the story of that fateful night of February 27, 1942. A brilliantly told, thrillingly tense account of Churchill's raiders in their finest hour, this is World War II history at its heart-stopping best.
 
"This highly informative book almost reads like a genuine techno-thriller."
—New York Journal of Books
 
"A little-known behind-the-lines spectacular led by two heroic British officers."
—Kirkus Reviews
 
"Anyone who wants to learn more about the origins of the British Special Forces should read this book.  It intertwines historical research and eyewitness testimony to tell the untold story of heroism, courage, and ingenuity."
—Military Press
 
"Lewis presents a richly detailed and nail-biting tale." 
—Library Journal
About the Author
---
Damien Lewis is an award-winning historian, war reporter, and bestselling author. He spent over two decades reporting from war, disaster, and conflict zones around the world, winning numerous awards. He has written more than a dozen books about WWII, including The Ministry for Ungentlemanly Warfare, The Dog Who Could Fly, SAS Ghost Patrol, and The Nazi Hunters. His work has been published in over forty languages, and many of his books have been made, or are being developed as feature films, TV series, or as plays for the stage.
Praise For…
---
Praise for Churchill's Shadow Raiders

"Lewis presents a richly detailed and nail-biting tale. For readers who enjoy well-told history and scholars of World War II." 
—Library Journal

"This highly informative book almost reads like a genuine techno-thriller as the author describes the "wizard's war" between England and Germany over the use of radar in the air war during 1940–1942….The author does an excellent job of blending technology and action to tell the amazing true story of one of the most daring but almost unknown special operations of the war….Engaging and suspenseful…this book is a real page-turner, balancing the blend of describing electronic gadgetry and heroic adventure to bring to life one of World War II's most audacious special operations."
—New York Journal of Books

"Superb....Reads like an adventure novel and the reader may be excused in forgetting that it is a history book."
—SOFREP Military Grade Content

"Damien Lewis's book is an excellent account of raid's events but more important is how he tells the story. Rather than a dry recounting of the history of the Paras and the raid, Lewis recognizes tells this story as a human drama of daring and bravery. The personalities of the raiders and the challenges they faced makes this book highly readable and gives it a page-turning quality….One of the most readable World War 2 history books I have read in years"
—We Are the Mighty

"Scholarship and readability combine to intertwine the themes of radar technology, the growth of special operations, and the development of airborne forces….A work that reads like a thriller and tells a compelling story."
—Army University Press

"Anyone who wants to learn more about the origins of the British Special Forces should read this book.  It intertwines historical research and eyewitness testimony to tell the untold story of heroism, courage, and ingenuity."
—Military Press

Damien Lewis' wondrously realized "Churchill's Shadow Raiders: The Race to Develop Radar, WWII's Invisible Secret Weapon" isn't a work of fiction, but that doesn't stop it from reading like a top-notch thriller fashioned by the likes of Jack Higgins or Frederick Forsyth.  …This is adventure writing that would make Alistair MacLean proud, circa "The Guns of Navarone." The narrative is so riveting and powerful that it's easy forget you're reading fact instead of fiction. Lewis writes with the alacrity of the great Erik Larson, while displaying an even keener sense of storytelling." 
—Providence Journal

Praise for Damien Lewis's Churchill's Hellraisers

"A little-known behind-the-lines spectacular led by two heroic British officers.  Successful niche military history for a popular audience."
—Kirkus Reviews

"Military historian Lewis delivers an action-packed account of special operations missions against Nazi forces in Northern Italy during WWII…He sets a brisk pace and laces the narrative with colorful character sketches. Battleground history buffs will be entertained."
—Publishers Weekly

Praise for Damien Lewis
"Intensely researched and powerfully written. One of the great untold stories of WWII."
—Bear Grylls on SAS Ghost Patrol
"You couldn't make these stories up, yet they're true, and Lewis does the memory of these extraordinary men full justice in a tale that is both heart-stopping and moving."
—Evening Standard on Hunting Hitler's Nukes
"A valuable addition to World War II history, and a harbinger of the sort of war that the United States and other countries are learning to wage in the 21st century."
—Washington Times on The Ministry of Ungentlemanly Warfare
"One of the most extraordinary stories of World War II . . . a Howitzer of a tale."
—The Daily Mail on The Ministry of Ungentlemanly Warfare
"An enjoyable, thought-provoking read."
—Soldier Magazine on The Ministry of Ungentlemanly Warfare
"A truly astonishing story."
—Weekend Sport on The Ministry of Ungentlemanly Warfare
"Takes us into into the heart of clandestine battles."
—Frederick Forsyth on Bloody Heroes
"A gripping story."
—General Sir Mike Jackson on Bloody Heroes
"Suspensful and well-written . . . vividly recounts the soldier's fatigue, stress and fear."
—Kirkus Reviews on Zero Six Bravo