Brotherhood of the Bomb: The Tangled Lives and Loyalties of Robert Oppenheimer, Ernest Lawrence, and Edward Teller (Paperback)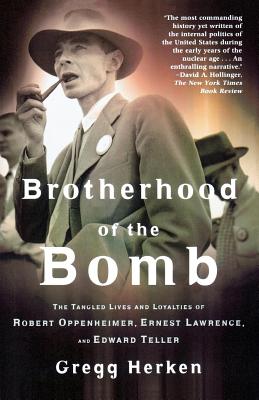 $29.99

Available from our Distributors - Usually arrives in-store in 2-7 days
(This book cannot be returned.)
Description
---
Gregg Herken's Brotherhood of the Bomb is the fascinating story of the men who founded the nuclear age, fully told for the first time

The story of the twentieth century is largely the story of the power of science and technology. Within that story is the incredible tale of the human conflict between Robert Oppenheimer, Ernest Lawrence, and Edward Teller-the scientists most responsible for the advent of weapons of mass destruction.

How did science-and its practitioners-enlisted in the service of the state during the Second World War, become a slave to its patron during the Cold War? The story of these three men, builders of the bombs, is fundamentally about loyalty-to country, to science, and to each other-and about the wrenching choices that had to be made when these allegiances came into conflict.

Gregg Herken gives us the behind-the-scenes account based upon a decade of research, interviews, and newly released Freedom of Information Act and Russian documents. Brotherhood of the Bomb is a vital slice of American history told authoritatively-and grippingly-for the first time.
About the Author
---
Gregg Herken is a curator and historian at the Smithsonian Institution and has taught at Oberlin, Caltech, and Yale. He is the author of The Winning Weapon, Counsels of War , and Cardinal Choices and received a MacArthur grant for Brotherhood of the Bomb. He lives in Alexandria, Virginia.
Praise For…
---
"The most commanding history yet written of the internal politics of the United States during the early years of the nuclear age . . . an enthralling narrative." —The New York Times Book Review

"The story is well-crafted and meticulously researched, drawing on recently declassified FBI files and documents, and it moves at a helter-skelter pace . . . a gripping account of three tangled lives." —The Washington Post World

"A well-written, well-documented, exciting and yet unhappy tale of a crucial encounter between science and politics." —Los Angeles Times