Practicing Mindfulness: Finding Calm and Focus in Your Everyday Life (Hardcover)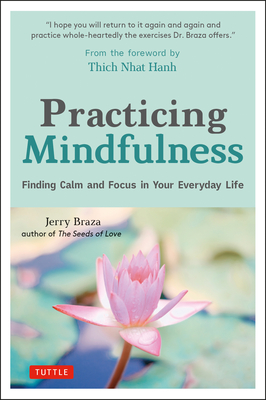 $12.99

Available from our Distributors - Usually arrives in-store in 2-7 days
Description
---
Thousands of readers--from prisoners to priests--have embraced Jerry Braza's insights in this book, adopting and integrating the mindful practices and habits it presents.
This new edition expands on the author's time-tested approach, introducing in-the-moment thinking and techniques for achieving clarity, focus and energy to a new generation of readers. Given the current uncertainty and changes throughout the world, all types of readers will find this guide to be useful--from those practicing mindfulness for the first time to meditation veterans.
This practical guide to mindfulness contains reflections, actions and practices that will help you to:
Reduce anxiety and stress
Calm and quiet the mind
Transform negative feelings and habits
Intensify personal connections and relationships
Heighten productivity and concentration
Address unresolved emotional issues and traumas
Discover the power of contemplative practice
This interactive book models best practices then invites the reader to participate through a Mindfulness Test, guided meditations, daily reflections and rituals, and thought-provoking and challenging questions and prompts to set readers on the path to more mindful living. Practicing mindfulness means performing all activities consciously. This awareness enables us to become more fully alive in each moment, enjoy more abundance, and avoid the stress and guilt that have been written into our habits. Based on the author's Mindfulness Training Program, Braza uses this book to gently provide simple exercises for applying these practices to our daily lives.
About the Author
---
Jerry Braza has been a leading voice in the field of health, psychology and mindfulness for over 35 years. A professor emeritus and dharma teacher ordained by Buddhist Master Thich Nhah Hahn, he continues to bring the essential teachings of his work into a wide variety of spiritual and secular settings. The author of The Seeds of Love, he leads a large Sangha in Salem, Oregon and is a mentor for sangha leaders nationwide. He is often a keynote speaker at conferences and is frequently asked to lead seminars, trainings, workshops and retreats. He has led and facilitated workshops and retreats for hospitals, mental and behavioral health groups, and for non-profit organizations. He lives in Portland Oregon. www.jerrybraza.com