Winter of Artifice: Three Novelettes (Paperback)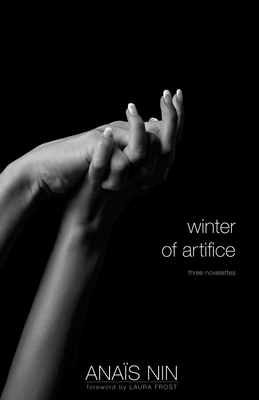 $15.95

On Our Shelves Now - Please call to confirm stock for hot titles
Description
---
Swallow Press first published Winter of Artifice in 1945, following two vastly different versions from other presses. The book opens with a film star, Stella, studying her own, but alien, image on the screen. It ends in the Manhattan office of a psychoanalyst—the Voice—who, as he counsels patients suffering from the maladies of modern life, reveals himself as equally susceptible to them. The middle, title story explores one of Nin's most controversial themes, that of a woman's sexual relationship with her father. Elliptical, fragmented prose; unconventional structure; surrealistic psychic landscapes—Nin forged these elements into a style that engaged with the artistic concerns of her time but still registers as strikingly contemporary.
This reissue, accompanied by a new introduction by Laura Frost and the original engravings by Nin's husband Ian Hugo, presents an important opportunity to consider anew the work of an author who laid the groundwork for later writers. Swallow Press's Winter of Artifice represents a literary artist coming into her own, with the formal experimentation, thematic daring, and psychological intrigue that became her hallmarks.
About the Author
---
Anaïs Nin (1903–1977) is an iconic literary figure and one of the most notable experimental writers of the twentieth century. As one of the first women to explore female erotica, Nin revealed the inner desires of her characters in a way that made her works a touchstone for later feminist writers. Swallow Press is the premier US publisher of books by and about Nin.
Praise For…
---
"The lead female characters begin small and damaged and eventually emerge at the other side more complete people at the expense of the men in their paths. But Nin accomplishes this with such delicacy and style that one would swear there was no other way."—Bookslut

"Winter of Artifice corrects the notion that Nin was an eccentric one-off; rather, her work has to be considered in artistic and even philosophical traditions of modernism…, literary confession, and memoir.… The moment is right to consider her work in the context of other experimental writers of her time and also from our present vantage point."—Laura Frost, from the introduction