Walk of Ages: Edward Payson Weston's Extraordinary 1909 Trek Across America (Hardcover)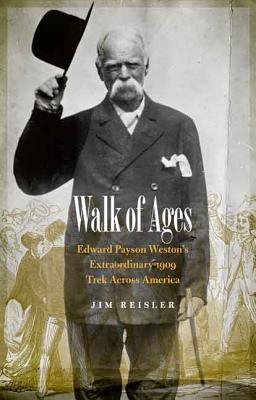 $32.95
On Our Shelves Now - Please call to confirm stock for hot titles
Description
---
On his seventieth birthday in 1909, a slim man with a shock of white hair, a walrus mustache, and a spring in his step faced west from Park Row in Manhattan and started walking. By the time Edward Payson Weston was finished, he was in San Francisco, having trekked 3,895 miles in 104 days.

Weston's first epic walk across America transcended sport. He was "everyman" in a stirring battle against the elements and exhaustion, tramping along at the pace of someone decades younger. Having long been America's greatest pedestrian, he was attempting the most ambitious and physically taxing walk of his career. He walked most of the way alone when the car that he hired to follow him kept breaking down, and he often had to rest without adequate food or shelter. That Weston made it is one of the truly great but forgotten sports feats of all time. Thanks in large part to his daily dispatches of his travails—from blizzards to intense heat, rutted roads, bad shoes, and illness—Weston's trek became a wonder of the ages and attracted international headlines to the sport called "pedestrianism."

Aided by long-buried archival information, colorful biographical details, and Weston's diary entries, Walk of Ages is more than a book about a man going for a walk. It is an epic tale of beating the odds and a penetrating look at a vanished time in America.

About the Author
---
Jim Reisler is the author of eight baseball books, most notably Babe Ruth: Launching the Legend, and is the editor of Guys, Dolls, and Curveballs: Damon Runyon on Baseball.
Praise For…
---
"Jim Reisler . . . brings this fascinating character to life on the pages of Walk of Ages."—Duncan R. Jamieson, Aethlon: Journal of Sports Literature
— Duncan R. Jamieson

"Reisler deserves credit for threshing out the real historical relevance of Edward Payson Weston."—Frank Zarnowski, Journal of Sport History
— Frank Zarnowski