Gabriel Okara: Collected Poems (African Poetry Book ) (Paperback)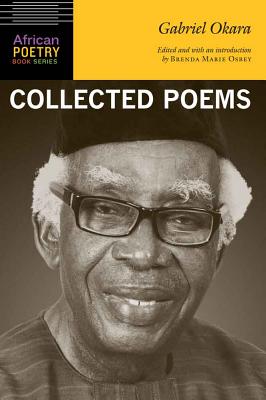 Description
---
Gabriel Okara, a prize-winning author whose literary career spans six decades, is rightly hailed as the elder statesman of Nigerian literature. The first Modernist poet of anglophone Africa, he is best known for The Fisherman's Invocation (1978), The Dreamer, His Vision (2005), and for his early experimental novel, The Voice (1964).
              

Arranged in six sections, Gabriel Okara: Collected Poems includes the poet's earliest lyric verse along with poems written in response to Nigeria's war years; literary tributes and elegies to fellow poets, activists, and loved ones long dead; and recent dramatic and narrative poems. The introduction by Brenda Marie Osbey contextualizes Okara's work in the history of Nigerian, African, and English language literatures. Gabriel Okara: Collected Poems is at once a treasure for those long in search of a single authoritative edition and a revelation and timely introduction for readers new to the work of one of Africa's most revered poets.
 
About the Author
---
Gabriel Okara was born at Bumoundi, Bayelsa State, in the Niger Delta in 1921 and educated at Government College Umuahia in Nigeria and Northwestern University in Evanston, Illinois. He worked as a bookbinder and printer for Federal Government Press at Lagos, served as the director of cultural and information services for the short-lived Republic of Biafra, and was the general manager of the Rivers State newspaper and broadcasting corporations. He is an honorary member of the Pan-African Writers' Association, a fellow of the Nigerian Academy of Letters, and is currently writer in residence at the University of Port Harcourt, Rivers State, Nigeria. 

Brenda Marie Osbey is a poet and essayist. Her most recent volumes are History and Other Poems and All Souls: Essential Poems. A native of New Orleans, she is poet laureate emerita of Louisiana and distinguished visiting professor of Africana Studies at Brown University.