Asia's Wildlife: A Journey to the Forests of Hope (Proceeds Support Birdlife International) (Hardcover)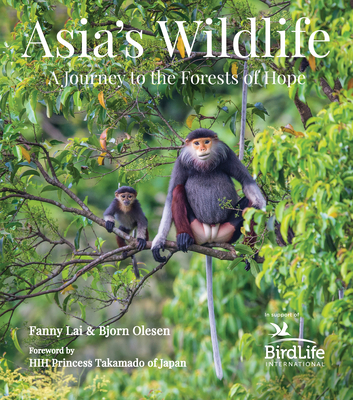 $34.99
This title is likely Out of Print or otherwise unavailable
Description
---
"Close-up views of endangered fauna in their natural habitats are difficult enough to obtain, but the breathtaking artistic quality of the photography in this valuable documentation of Asia's disappearing forest habitats makes this book highly recommended for both scientists and nature lovers alike."
--Robert Stuebing, The Field Museum of Natural History, Chicago. Author of A Field Guide to the Snakes of Borneo
Asia's Wildlife
provides rare insights into Asia's breathtaking tropical forests and the rare species that inhabit them--many of which are now endangered. Proceeds from this book will go to support the conservation activities of BirdLife International. Produced to raise funds and awareness of nature conservation through their
Forest of Hope
program,
Asia's Wildlife
is a mesmerizing year-long photographic journey of the expedition taken by Fanny Lai and photographer Bjorn Olesen. Readers can become part of their journey as they observe, photograph, and describe Asia's most distinctive animal species. The trip brings you to the most remote and biodiverse forests in eight different countries in Asia, and gives you the opportunity to learn about rarely seen--let alone photographed--endangered animal species.
Over 190 images and illustrations feature 129 different animal species, of which 72 are national endemics, including:
The Giant Cloud Rat
The majestic Philippine Eagle
The critically endangered Helmeted Hornbill
And many other fascinating creatures
Discover the ongoing conservation efforts to protect these precious forests, as well as very real threats to the future of the animals and habitats.
About the Author
---
Fanny Lai is passionate about wildlife. She is a cartoonist, author, travel writer and former Group CEO of Wildlife Reserves Singapore, which comprises Singapore Zoo, Night Safari, Jurong Bird Park and River Safari. She is equally known for her entrepreneurial business development skills following a career that has spanned more than 30 years in branding, marketing and corporate management. She holds an Executive MBA from the University of Chicago Graduate School of Business. Bjorn Olesen is a retired corporate executive, award-winning wildlife photographer, author and committed conservationist. A Singapore permanent resident, he has lived more than 30 years in Asia traveling to many of the most exciting wildlife sites on the continent. His articles and images have appeared in numerous local and overseas publications. All his photos are available free of charge to non-profit conservation NGOs. Foreword by HIH Princess Takamado of Japan. Honorary President of BirdLife International. About the Editor: Yong Ding Li carried out his Ph.D. research in conservation and ecology at the Australian National University. He currently works on forest and wetland conservation policy at BirdLife International's Asia Division. Passionate about wildlife since his childhood, Ding Li has traveled widely across some of the remotest parts of Asia. Ding Li has written over 40 papers and four books on the wildlife and ecology of the region, most recently the best-selling Best 100 Birdwatching Sites in Southeast Asia.