Despair and Other Stories of Ottawa (Paperback)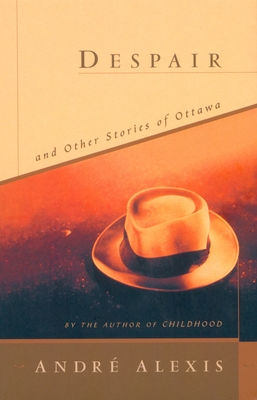 $14.99
This title is likely Out of Print or otherwise unavailable
Description
---
These eight stories reveal a world that's both recognizable and strange: cities of anxiety and violence, where quiet inhabitants lead outwardly banal lives that conceal sinister interiors. The premises, both fantastic and surreal, are also eerily plausible; they often follow the logic of dreams where the real can appear in disguise. Though geographically rooted, the setting – from Ottawa to Toronto and the South of France – take on an ephemeral dimension: the geography is of the subconscious.

With his darkly philosophical bent and sly humour, Alexis has fashioned an underworld and limned it with light. Despair quakes with life and sings with the imaginative brilliance of one of the most accomplished new talents writing today.
About the Author
---
André Alexis was born in Trinidad in 1957 and grew up in Canada. His debut novel, Childhood (1998), won the Chapters/Books in Canada First Novel Award, shared the Trillium Award, and was shortlisted for the Giller Prize and the Rogers Communications Writers' Trust Fiction Prize. It has been published around the world. He is also the author of an internationally acclaimed collection of short stories, Despair and Other Stories of Ottawa (1994), which was shortlisted for a Regional Commonwealth Prize, and he has published a play, Lambton Kent (1999).

André Alexis lives in Toronto, where he is at work on his next novel.
Praise For…
---
"Readers will be rewarded by this collection's extraordinary depth of field and by its author's vibrant intelligence."
–Branko Gorjup, Review of Candian Fiction

"Alexis is among those whose talent could take him anywhere."
–Canadian Forum

"He has a bizarre and brilliant wit."
–Ottawa Xpress

"His stories are powerful, disturbing, and beautiful."
–Harry Mathews