All the Lives He Led: A Novel (Paperback)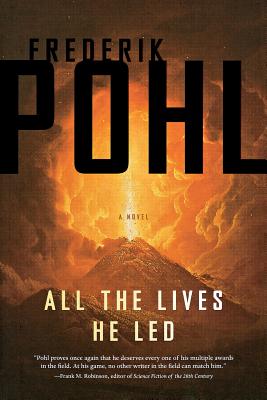 $18.99

Available from our Distributors - Usually arrives in-store in 2-7 days
(This book cannot be returned.)
Description
---
Two thousand years after Pompeii's destruction, a thriller of upheaval-volcanic and political-as only SF Grandmaster Frederik Pohl can write it!

With a keen eye for the humanity in any situation, science fiction icon Frederik Pohl has crafted a compelling new novel of a not-too-distant future we can only hope is merely science fiction.

When Mount Vesuvius erupted in 79 A.D. it gave so little warning that Pompeiians were caught unawares, and many bodies were preserved in volcanic ash. Two thousand years later, in 2079, Pompeii is a popular theme park eagerly anticipating Il Giubeleo, the Jubilee celebration of the great anniversary. But Vesuvius is still capable of erupting, and even more threatening are terrorists who want to use the occasion to draw attention to their cause by creating a huge disaster. As the fateful day draws near, people from all over the world-workers, tourists, terrorists-caught in the shadow of the volcano will grapple with upheaval both natural and political.
About the Author
---
Frederik Pohl (1919-2013) was one of science fiction's most important authors. Among his many novels are Gateway, which won the John W. Campbell Memorial Award, the Hugo Award, the Locus SF Award, and the Nebula Award, Beyond the Blue Event Horizon, which was a finalist for the Hugo and Nebula Awards, and Jem, which won the 1980 National Book Award in Science Fiction. He also collaborated on classic science fiction novels including The Space Merchants with Cyril M. Kornbluth. Pohl was an award-winning editor of Galaxy and If, a book editor at Bantam, and served as president of the Science Fiction Writers of America. He was named a Grand Master of Science Fiction by SFWA in 1993, and was inducted into the Science Fiction and Fantasy Hall of Fame.
Praise For…
---
"SFWA Grand Master Pohl's latest is a pure delight, miraculously combining wry adventure and compassionate satire…. His tempered, hard-won faith in humanity makes this book especially satisfying." —Publishers Weekly on The Boy Who Would Live Forever

"Very few books have ever held my attention in such an iron grip right up until the last paragraph, built so irresistibly to such a satisfying series of blockbuster punch lines, left me so breathless with admiration, achieved such truly cosmic scope." —Analog on Beyond the Blue Event Horizon