Mango, Abuela, and Me (Hardcover)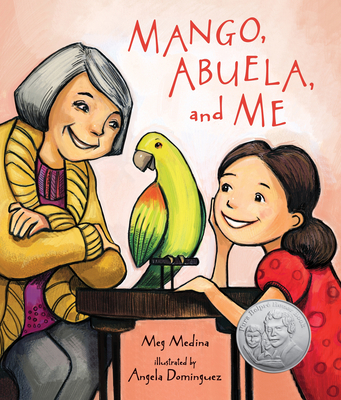 $17.99

Backordered to the Publisher - May not be immediately available! Contact us for more information.
Description
---
A 2016 Pura Belpré Author Award Honor Book
A 2016 Pura Belpré Illustrator Award Honor Book

When a little girl's far-away grandmother comes to stay, love and patience transcend language in a tender story written by acclaimed author Meg Medina.

Mia's abuela has left her sunny house with parrots and palm trees to live with Mia and her parents in the city. The night she arrives, Mia tries to share her favorite book with Abuela before they go to sleep and discovers that Abuela can't read the words inside. So while they cook, Mia helps Abuela learn English ("Dough. Masa"), and Mia learns some Spanish too, but it's still hard for Abuela to learn the words she needs to tell Mia all her stories. Then Mia sees a parrot in the pet-shop window and has the perfectoidea for how to help them all communicate a little better. An endearing tale from an award-winning duo that speaks loud and clear about learning new things and the love that bonds family members.
About the Author
---
Meg Medina is the author of the Newbery Medal–winning book Merci Suárez Changes Gears, which was also a 2018 Kirkus Prize finalist. Her young adult novels include Yaqui Delgado Wants to Kick Your Ass, which won the 2014 Pura Belpré Author Award; Burn Baby Burn, which was long-listed for the National Book Award; and The Girl Who Could Silence the Wind. She is also the author of picture books Mango, Abuela, and Me, illustrated by Angela Dominguez, which was a Pura Belpré Author Award Honor Book, and Tía Isa Wants a Car, illustrated by Claudio Muñoz, which won the Ezra Jack Keats New Writer Award. The daughter of Cuban immigrants, she grew up in Queens, New York, and now lives in Richmond, Virginia.


Angela Dominguez has created many picture books, including Maria Had a Little Llama, for which she received a Pura Belpre Honor for illustration. She also teaches art at the Academy of Art University. She lives in San Francisco.
Praise For…
---
Medina artfully weaves a few Spanish words and phrases into her mainly English sentences in a way young Latinos take for granted, and most English speakers should understand...
—The New York Times

With its emotional nuance and understated, observant narration—especially where Abuela's inner state is concerned—Medina's (Tia Isa Wants a Car) lovely story has the feel of a novella.
—Publishers Weekly (starred review)

Pura Belpré Award winner Medina (Yaqui Delgado Wants to Kick Your Ass, 2013) and Pura Belpré honoree Dominguez (Maria Had a Little Llama, 2013) have created a poignant tale of intergenerational connection, transition, and patience. The language and vivid illustrations (a colorful blend of ink, gouache, and marker) are infused with warmth and expression, perfectly complementing the story's tone. Abuela's adjustment to her new home is sensitively portrayed as she and Mia bond over their different cultures and shared heritage. Pair with Matt de la Peña's Last Stop on Market Street (2015) for another look at urban multiculturalism. Heartfelt, layered, and beautiful—a must for library collections.
—Booklist (starred review)

This uplifting and affirming tale makes clear that connecting with someone sometimes takes work and ingenuity, but the payoff is priceless.
—Shelf Awareness (starred review)

Readers from multigenerational immigrant families will recognize the all-too-familiar language barrier. They will also cheer for the warm and loving relationship between Abuela and Mia, which is evident in both text and illustrations even as the characters struggle to understand each other. This warm family story is a splendid showcase for the combined talents of Medina, a Pura Belpré award winner, and Dominguez, an honoree.
—Kirkus Reviews

Medina honors the beauty of holding onto one's history while also making room for new traditions. She demonstrates the richness to be gained by bridging two generations through the language dear to each. Her deceptively simple story models a way to close the communication gap and respect two languages and ways of life...This uplifting and affirming tale makes clear that connecting with someone sometimes takes work and ingenuity, but the payoff is priceless.
—Shelf Awareness

In this tale, Medina blends Spanish and English words together as seamlessly as she blends the stories of two distinct cultures and generations. Dominguez's bright illustrations, done in ink, gouache, and marker, make the characters shine as bright as the rich story they depict...Everything about this book will make readers want to share it with someone they love. A timeless story with wide appeal.
—School Library Journal

Medina (Tía Isa Wants a Car, rev. 7/11) tells a heartwarming story about intergenerational relationships, finding common ground, and adapting to change. Dominguez's (Maria Had a Little Llama, rev. 11/13) digitally adjusted ink, gouache, and marker illustrations capture the various emotions and moods of the characters, from shyness to frustration to happiness...Young readers will enjoy seeing the relationship between Mia and her grandmother develop—with the help of Mango.
—The Horn Book

Dominguez's easy- going illustrations (in ink, gouache, and marker) have a casual yet precise style; there are touches of humor in Mia's English labeling of nearly every object in the apartment, and the occasional perspectival shift (looking down on a wistful Abuela as she sits in the park with her granddaughter) adds emotional resonance. There are a lot of families negotiating language and cultural divides, especially with extended family, so plenty of kids will sympathize with Mia's situation and appreciate her growing relationship with Abuela.
—Bulletin of the Center for Children's Books

Family stories warm the heart and help to remind us about our own family memories. The colorful artwork is much like the relationship created in this story.
—School Library Connection

Medina pays careful attention to what it means to live in a new language.
—Literacy Daily