Spelunking Through Hell: A Visitor's Guide to the Underworld (InCryptid #11) (Mass Market)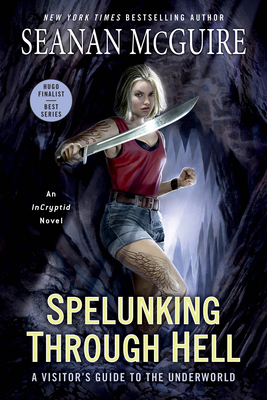 Other Books in Series
This is book number 11 in the InCryptid series.
Description
---
Seanan McGuire's New York Times-bestselling and Hugo Award-nominated urban fantasy InCryptid series continues with the eleventh book following the Price family, cryptozoologists who study and protect the creatures living in secret all around us.

Love, noun:
1. An intense feeling of deep affection; may be romantic, filial or platonic.

Passion, noun:
1. A strong or barely controllable emotion.
2. Enthusiasm, interest, desire.
3. See also "obsession."

For Alice Price-Healy, finding her missing husband isn't just a mission: it's an obsession, the thing she has willingly given up every other aspect of her life to pursue. And after more than fifty years, she finally has confirmation that he might be alive out there. She may even have a direction. Now, if she can just keep herself from getting killed before she reaches her destination, she might be able to finish her seemingly endless quest.

All she wants is a happy ending. That's the only thing the universe has never wanted her to have.

Fifty years of running through dimensions without a lot of concern for making friends has left her with more enemies than allies, but she's still got a few places to turn, including Naga, the professor of extra-dimensional studies and giant snake-man she met when she was seven, Helen and Phoebe, the Ithacan satyrs, and Cynthia, the owner of the Red Angel Tavern.

Where she can't turn is to her family, back on Earth and tired of her dimension-hopping obsession. They wrote her off as unreliable long ago, and are unlikely to join what looks like one more wild goose chase.

But is it? Or is this the time Alice finally brings Thomas home to stay?
About the Author
---
Seanan McGuire lives and works in Washington State, where she shares her somewhat idiosyncratic home with her collection of books, creepy dolls, and enormous blue cats.  When not writing--which is fairly rare--she enjoys travel, and can regularly be found any place where there are cornfields, haunted houses, or frogs.  A Campbell, Hugo, and Nebula Award-winning author, Seanan's first book (Rosemary and Rue, the beginning of the October Daye series) was released in 2009, with more than twenty books across various series following since.  Seanan doesn't sleep much. 

You can visit her at www.seananmcguire.com.
Praise For…
---
Finalist for the 2020 Hugo Award for Best Series

Praise for the InCryptid novels

"The only thing more fun than an October Daye book is an InCryptid book. Swift narrative, charm, great world-building...all the McGuire trademarks." —Charlaine Harris, #1 New York Times-bestselling author of the Sookie Stackhouse series

"[Half-Off Ragnarok] is kind of like taking a tour through a very deadly theme park made up of alternating parts awesome and terrifying. Come to think of it, that sums up this series quite nicely.... This book effectively acts as a jumping-on point to those just coming in." —Tor.com 

"Half-Off Ragnarok is my favorite book in the InCryptid series thus far.... If urban fantasy, intriguing animals, and fast-paced adventure is your thing, you're going to love Half-Off Ragnarok. Highly recommended." —Jennifer Brozek

"McGuire creates a sense of wonder and playfulness with her love for mythology and folklore.... Her enthusiastic and fast-paced style makes this an entertaining page-turner." —Publishers Weekly

"McGuire's InCryptid series is one of the most reliably imaginative and well-told sci-fi series to be found.... McGuire's heroine is a brave, resourceful and sarcastic delight, and her intrepid comrades are just the kind of supportive and snarky sidekicks she needs." —RT Reviews

"While chock-full of quality worldbuilding, realistic characters, and a double helping of sass, at its core, Half-Off Ragnarok is a book about judging others according to stereotypes, how nurture can overcome nature, and the importance of family." —Ranting Dragon

"The InCryptid series continues to be storytelling at its best. Tricks for Free sends us on a rollercoaster of emotions and thrills with its engaging plot and ever-expanding and fascinating world." —All Things Urban Fantasy

"Imaginary Numbers is a stunning installment and one that every urban fantasy reader is sure to relish." —Fresh Fiction