Empty Cauldrons: Navigating Depression Through Magic and Ritual (Paperback)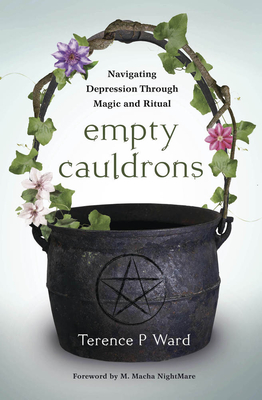 Description
---
A Pagan Guide to Coping with Depression
Whether is it impacting you or a loved one, depression can be difficult to discuss or even acknowledge. Empty Cauldrons explores the isolating influence it can have and why many people resist professional help. With contributions from Pagan clergy, depression sufferers, and therapists, author Terence P Ward creates a picture of depression that draws upon both science and religion. He also shares his own experiences with this common affliction and the spiritual methods he has used for relief.
Discover how to draw off miasma, appeal to the gods of the wind, purify yourself with sound, and host a traditional Hellenic ancestor feast. Learn about conducting shadow work, tending a depression shrine, keeping a dream journal, and much more. Throughout the book, Ward compassionately presents dozens of simple strategies for developing a polytheistic relationship with depression, seeking comfort, and rekindling hope.
Includes a foreword by M. Macha Nightmare, priestess, witch, and cofounder of the reclaiming collective
About the Author
---
Terence P Ward (Mid-Hudson Valley, NY) is a journalist and practicing Pagan for more than thirty years. He has been bound to a Wiccan coven, communed with the Earth as a backpacking Pagan (aka Gaiaped), and been tapped by the Olympian gods. He manages his depression through his work as a priest to Poseidon, and he's a minister ordained through the Church of the Sacred Earth: a Union of Pagan Congregations in Vermont. Ward is also a member of the order of the occult hand.M. Macha NightMare is an author, teacher, priestess, and ritualist with a penchant for collaboration. She is an initiate of two traditions of Witchcraft: Reclaiming and Faery/Feri, Reclaiming's root tradition. An internationally published author, Macha co-authored, with Starhawk, and edited The Pagan Book of Living and Dying (HarperOne, 1997), Witchcraft and the Web (ECW Press, 2001), and Pagan Pride (Citadel, 2004).