Moby Dick: or the Whale (Hardcover)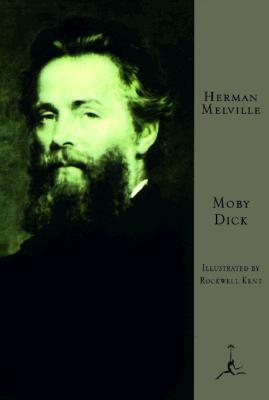 $24.00

On Our Shelves Now - Please call to confirm stock for hot titles
Description
---
Illustrated by Rockwell Kent • Nominated as one of America's best-loved novels by PBS's The Great American Read

First published in 1851, Herman Melville's masterpiece is, in Elizabeth Hardwick's words, "the greatest novel in American literature." The saga of Captain Ahab and his monomaniacal pursuit of the white whale remains a peerless adventure story but one full of mythic grandeur, poetic majesty, and symbolic power. Filtered through the consciousness of the novel's narrator, Ishmael, Moby-Dick draws us into a universe full of fascinating characters and stories, from the noble cannibal Queequeg to the natural history of whales, while reaching existential depths that excite debate and contemplation to this day.
About the Author
---
Herman Melville was born in New York City in 1819. When his father died, he was forced to leave school and find work. After passing through some minor clerical jobs, the eighteen-year-old young man shipped out to sea, first on a short cargo trip, then, at twenty-one, on a three-year South Sea whaling venture. From the experiences accumulated on this voyage would come the material for his early books, Typee (1846) and Omoo (1847), as well as for such masterpieces as Moby-Dick (1851), Pierre (1852), The Piazza Tales (1856), and Billy Budd, Sailor, and Other Stories (posthumous, 1924). Though the first two novels—popular romantic adventures—sold well, Melville's more serious writing failed to attract a large audience, perhaps because it attacked the current philosophy of transcendentalism and its espoused "self-reliance." (As he made clear in the savagely comic The Confidence Man (1857), Melville thought very little of Emersonian philosophy.) He spent his later years working as a customs inspector on the New York docks, writing only poems comprising Battle-Pieces (1866). He died in 1891, leaving Billy Budd, Sailor, and Other Stories unpublished.

Rockwell Kent (1882–1971) was a prolific illustrator, writer, sailor, and explorer. His illustration credits include Voltaire's Candide and Herman Melville's Moby-Dick.