The Tiger Claw (Paperback)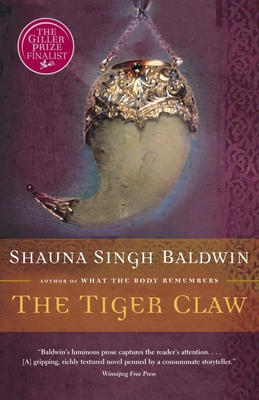 $18.00
This title is likely Out of Print or otherwise unavailable
Description
---
Shauna Singh Baldwin first heard of the mysterious story of Noor Inayat Khan (codename Madeleine) at The Safe House, an espionage-themed restaurant in Milwaukee. A former Dutch spy told her of the brave and beautiful Indo-American woman who left her family in London, England to become a spy in Nazi-occupied France during the Second World War.

The story immediately intrigued Baldwin, inspiring her to travel to Europe, seek out the places where Noor lived, interview the people who knew her and discover more about the enigmatic woman. The Giller Prize finalist The Tiger Claw — Baldwin' s follow-up novel to her award-winning What The Body Remembers — was born from the silences, conflicting stories and significant gaps she discovered along the way.

As the novel begins, we're thrown into a bleak German prison cell with Noor, where she is shackled hand and foot and freezing from the winter's cold. It is December 1943, the turning point in the war raging in Europe. Noor's captor, Herr Vogel, allows her onionskin paper on which he directs her to write children's stories. She does so, but also secretly writes letters to someone she addresses as "ma petite," the spirit of the child she had conceived with Armand Rivkin, a French Jewish musician and the love of her life. Although she must keep the letters hidden from her captor, it is through these words to her unborn child, alternating with a thrilling third-person narrative, that we learn Noor's courageous and heartbreaking story.

Noor's mother is an American from Boston who married a Sufi musician and teacher from India. Growing up in France, Noor is extremely close with her liberal Muslim father, but when he dies, Noor's conservative uncle Tajuddin and her brother Kabir govern the family.

Uncle Tajuddin and Kabir disapprove of Noor's love for Armand, and as the men of the family in 1930s France, they have the legal right to stop her engagement. Noor is faced then with the choice between defying her family and turning against her heart. She stops seeing Armand, but is devastated and lonely. Once the war begins, Noor's family heads to England while Armand's family stays.

When Germany invades France, Noor despairs of ever seeing Armand again, until Kabir unwittingly introduces her to his new friend who is recruiting bilingual women for the resistance. Noor is offered training, and she accepts. She will help defeat the Germans, but her true purpose will be to find and reunite with Armand.

As a resistance agent, Noor trains to be a radio operator, taking on a second identity — Nora Baker — one of many names she will eventually assume. When she arrives in France, she plays Anne-Marie Régnier — a woman caring for her sick aunt — and to other spies in her resistance network, she is known as "Madeleine."

She has secret rendezvous with other agents, transmits messages from various safe houses, and risks capture at every turn. She rents an apartment across the street from Drancy, the concentration camp where she knows Armand is being held. At great peril, she sends him a message — the tiger claw pendant she always wears for luck and courage.

Noor must wade her way through oppression and hypocrisy from all sides: h her beloved Armand could be killed by the Germans at any time; her French and British colleagues fight the occupation of France while Britain still occupies India; she learns of dark family secrets; and, one by one, members of the spy network are being ratted out by a double agent. Betrayal can come from anyone.

We know from the beginning that Noor will end up imprisoned, but who betrays her? Will she ever be released? Will Kabir find her? Will she and Armand be reunited? Baldwin paces the story like a nail-biting thriller, revealing only a little bit at a time.

The Tiger Claw is packed with complex characters riding the line between good and evil. In the end, it is the reader who must be the judge, and decide where he or she stands.
About the Author
---
SHAUNA SINGH BALDWIN was born in Montreal and grew up in India. The Tiger Claw, which was short-listed for the Giller Prize in 2004, is her second novel. Her first, What the Body Remembers, published by Knopf in 1999, was longlisted for the Orange Prize for Fiction and was awarded the Commonwealth Writer's Prize for Best Book in the Canada/Caribbean region. It has been translated into eleven languages.

Baldwin is also the author of English Lessons and Other Stories and co-author of A Foreign Visitor' s Survival Guide to America. Her short stories have won many prestigious literary awards in the United States, Canada and India.

As well as English, Baldwin speaks Hindi, Urdu, Punjabi and French. She holds an MBA from Marquette University in Milwaukee, where she currently lives with her husband.
Praise For…
---
"The Tiger Claw is a first-rate spy thriller and also first-rate literature. Set in the 1940s in Occupied Paris with haunting similarities to the world today, this is a novel that reminds us that sometimes only fiction can really tell us the truth…. The story of one woman's courage in the face of racism, betrayal and hypocrisy on one hand and the veils of war on the other. It is also a love story between a Muslim and a Jew told in a language that resonates with mysticism and romance – yet it is brutally honest in its assessment of motives and ambiguities."
—The Giller Prize Jury

"Baldwin's luminous prose captures the reader's attention. . . . [She] immerses the reader in the atmosphere of the Vichy era, replete with undercurrents of terror and prejudice. . . . Readers, especially those interested in history and politics, will be intrigued by this gripping, richly textured novel penned by a consummate storyteller."
—Winnipeg Free Press

"Baldwin has succeeded in crafting yet another indelible story based in fact."
—The Edmonton Journal

"The Tiger Claw brilliantly reveals the shifting sands of allegiance in times of war and the duplicity required for survival when all who are operating underground are interdependent but no one can be trusted fully."
—The Gazette (Montreal)

"The Tiger Claw is a brilliant novel, a harrowing story of espionage and love, of loyalty and betrayal in the treacherous world of WWII Europe. Shauna Singh Baldwin has an astonishing ability to paint a very large canvas with amazing detail. You are there. 'Impressive' hardly even begins to describe it: masterful. I could not put it down. A stunning achievement, but most of all, important."
—Sandra Gulland

"A deeply felt, richly evocative novel that resurrects and reinvents a remarkable life, The Tiger Claw tells an affecting story of love and loss amidst the turbulence of war and human dislocation. It confirms Shauna Singh Baldwin as a major literary voice that transcends the borders that divide human experience."
—Shashi Tharoor

"The Tiger Claw is a fascinating story of moral complexity, inner conflict and exile, a magnificent portrait of a very courageous woman, Noor Inayat Khan, the legendary French Resistance fighter, whose divided conscience is reflected in the drama of Nazi-occupied France and British-occupied India. That Noor strikes us a modern figure of heroism and doubt is because of the compelling vision of Shauna Singh Baldwin."
—Marie-Claire Blais

Praise for What the Body Remembers:
"A stunning first novel. Intensely atmospheric — an artistic triumph."
—Publishers Weekly (starred review)

"An impressive achievement. . .rich, fascinating, epic. . . An original, extremely readable book that dramatizes the plight of Indian women with great sympathy and love."
—The Gazette (Montreal)

"A captivating jewel of a novel by a seasoned and sophisticated writer. . . Beyond being a compelling tale of individuals, What the Body Remembers offers a gimlet-eyed view of a pluralistic society's disintegration into factionalism and anarchy."
—The Washington Post