Caught in a Bad Fauxmance (Hardcover)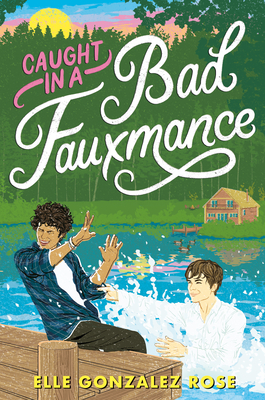 $18.99

Coming Soon - Available for Pre-Order Now - Please check release date!
Description
---
A fresh, fun contemporary rom-com from debut author Elle Gonzalez Rose, about an aspiring artist who agrees to fake date one of his family's longtime enemies in the hopes of gathering intel good enough to take down their rivals once and for all.

Devin Baez is ready for a relaxing winter break at Lake Andreas. That is, until he runs into his obnoxious next-door neighbors the Seo-Cookes, undefeated champions of the lake's annual Winter Games. In the hope of finally taking down these long-time rivals, the Baezes offer up their beloved cabin in a bet. Reckless? Definitely.

So when annoyingly handsome Julian Seo-Cooke finds himself in need of a fake boyfriend, Devin sees an opportunity to get behind enemy lines and prove the family plays dirty.

As long as Devin and Julian's families are at war, there's only room for loathing between them. Which is a problem because, for Devin, this faux game of love is feeling very real.
About the Author
---
Elle Gonzalez Rose is a producer and author from New York who's better at writing love stories about short, queer Boricuas than she is at writing bios. Her dog thinks she's okay. Caught in a Bad Fauxmance is her debut novel—Elle's, not the dog's.
Praise For…
---
"There's nothing faux about the iron grip this book has on my heart. I'm in urgent care right now because I swooned so hard I pulled a muscle!" —Sonora Reyes, National Book Award Finalist
 
"Sharp, hilarious, and pure delight. Caught in a Bad Fauxmance combines the comfort of familiar tropes with the thrill of an original story that left me rooting for Devin and Julian through the very last page." —Robbie Couch, New York Times bestselling author of If I See You Again Tomorrow
 
"An utterly charming debut filled to the brim with humor and heart. I adored being immersed in it. Choco pies. Broccoli. The pier. Tres leches cake. Devin and Julian's delightful journey is the kind of fauxmance you won't soon forget!" —Mia Sosa, USA Today bestselling author of The Worst Best Man
 
"Caught in a Bad Fauxmance is such a charming debut! Elle Gonzalez Rose wrote a novel that made me laugh and cry; it touched all parts of me that adore books about first loves and family joy." —Tif Marcelo, USA Today bestselling author of The Holiday Switch

"A charming and hilarious debut that puts a fresh new spin on the fake dating trope!" —Adiba Jaigirdar, award-winning author of Hani and Ishu's Guide to Fake Dating and Henna Wars

"Caught in a Bad Fauxmance gave the summer-camp-romance vibes in the middle of winter that I never knew I needed! Effortlessly witty and warm. I adored every minute in Devin's snarky, creative mind, with his lovably chaotic family, and in his cozy lakeside town!" —Kaitlyn Hill, author of Love from Scratch and Not Here to Stay Friends

"A satisfyingly complex story encompassing both romance and family healing." —Kirkus Reviews