Putting the Fact in Fantasy: Expert Advice to Bring Authenticity to Your Fantasy Writing (Paperback)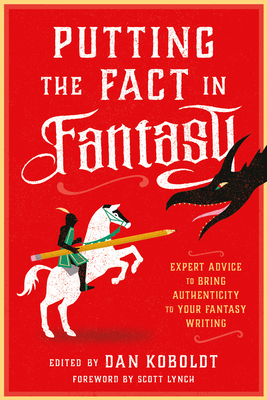 Description
---
A collection of essays from historians, linguists, martial artists, and other experts to help you write more compelling fantasy by getting the facts right

Whether it's correctly naming the parts of a horse, knowing how lords and ladies address one another, or building a realistic fantasy army, getting the details right takes fantasy writing to the next level. Featuring some of the most popular articles from Dan Koboldt's Fact in Fantasy blog as well as several never-before-seen essays, this book gives aspiring and established fantasy writers alike an essential foundation to the fascinating history and cultures of our own world, which serve as a jumping-off point for more inspired and convincing fantasy.
About the Author
---
Dan Koboldt is a prinicipal investigator for Nationwide Children's Hospital and an assistant professor of pediatrics for The Ohio State University. Also a science fiction and fantasy writer, Koboldt is the editor of Putting the Science in Fiction and the author of the Gateways to Alissia trilogy and the Build-a-Dragon Sequence.