California Soul: An American Epic of Cooking and Survival (Hardcover)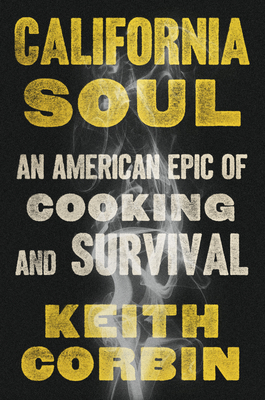 Description
---
JAMES BEARD AWARD NOMINEE • A sharply crafted and unflinchingly honest memoir about gangs, drugs, cooking, and living life on the line—both on the streets and in the kitchen—from one of the most exciting stars in the food world today

"As compelling or more so than Boyz N the Hood and Menace II Society . . . When Corbin writes about his life, it burns with the intensity of the best pulp fiction, but it isn't fiction—it's the life he lived."—Los Angeles Times

ONE OF THE BEST BOOKS OF THE YEAR: Salon

Chef Keith Corbin has been cooking his entire life. Born on the home turf of the notorious Grape Street Crips in 1980s Watts, Los Angeles, he got his start cooking crack at age thirteen, becoming so skilled that he was flown across the country to cook for drug operations in other cities. After his criminal enterprises caught up with him, though, Corbin spent years in California's most notorious maximum security prisons—witnessing the resourcefulness of other inmates who made kimchi out of leftover vegetables and tamales from ground-up Fritos. He developed his own culinary palate and ingenuity, creating "spreads" out of the unbearable commissary ingredients and experimenting during his shifts in the prison kitchen.

After his release, Corbin got a job managing the kitchen at LocoL, an ambitious fast food restaurant spearheaded by celebrity chefs Roy Choi and Daniel Patterson, designed to bring inexpensive, quality food and good jobs into underserved neighborhoods. But when Corbin was suddenly thrust into the spotlight, he struggled to live up to or accept the simplified "gangbanger redemption" portrayal of him in the media. As he battles private demons while achieving public success, Corbin traces the origins of his vision for "California soul food" and takes readers inside the worlds of gang hierarchy, drug dealing, prison politics, gentrification, and culinary achievement to tell the story of how he became head chef of Alta Adams, one of America's best restaurants.
About the Author
---
Keith Corbin is the James Beard Award–nominated executive chef and co-owner of Alta Adams in Los Angeles, named one of the best restaurants in the country by Esquire, Thrillist, and the Los Angeles Times. A native of Watts, Corbin was formerly director of operations for the LocoL restaurant group and worked for Daniel Patterson at his Michelin-starred fine dining restaurant Coi in San Francisco.
Praise For…
---
"There is a lot of story to tell, yet there is no word wasted. . . . As I turned the final page of [Keith Corbin's] riveting book, I felt exhausted by his race to stability, motivated by his fortitude and relieved that he is alive to tell the tale." —San Francisco Chronicle

"So much of Corbin's writing . . . is what crime writers aspire to do, but the language and conventions of crime writing sometime seem stilted or manufactured. Reading California Soul is a different experience. . . . Corbin's story comes through without self-consciousness and in his own language, a language that isn't the vernacular of the generic streets but the patois of those of us who grew up in Black Los Angeles." —Los Angeles Times

"Keith Corbin has gone well beyond just writing a remarkable memoir. By refusing to impose a clean redemption narrative on his own experience, Corbin moves beyond the limitations placed on stories of Black lives in America. California Soul is a courageous book."—Dr. Ibram X. Kendi, National Book Award winner and author of the #1 New York Times bestseller How to Be an Antiracist

"Keith Corbin's California Soul is the kind of real-life story that—unless you come from the bricks—you never really hear. This is not just one man's story. It's a family story, a neighborhood story, an American story. And only through food can it be digested completely. Time to eat."—Roy Choi, New York Times bestselling author, James Beard Award–winning host of Broken Bread and The Chef Show, and co-founding chef of Kogi, Best Friend, and LocoL

"Keith Corbin grabs you in the first chapter with the sheer rawness and authenticity of his description of what it's like to live in Watts and in his shoes, and he doesn't let you go until the last word. Corbin has a way of putting the reader in the moment—mind, body, and soul. This story has heart, and I never wanted it to end."—Carla Hall, bestselling author of Carla Hall's Soul Food and judge on Food Network's Halloween Baking Championship

"In this exhilarating saga of drugs, crime, and culinary passion, Corbin traces his remarkable rise from a life behind bars to a successful career as a chef. . . . Readers shouldn't miss this."—Publishers Weekly (starred review)