Never Pay the First Bill: And Other Ways to Fight the Health Care System and Win (Hardcover)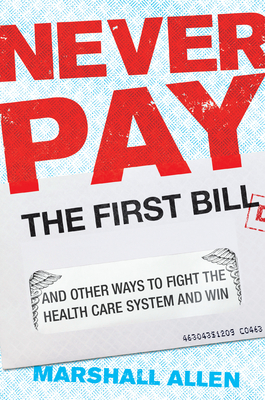 Description
---
From award-winning ProPublica reporter Marshall Allen, a primer for anyone who wants to fight the predatory health care system--and win.

Every year, millions of Americans are overcharged and underserved while the health care industry makes record profits. We know something is wrong, but the layers of bureaucracy designed to discourage complaints make pushing back seem impossible. At least, this is what the health care power players want you to think.

Never Pay the First Bill is the guerilla guide to health care the American people and employers need. Drawing on 15 years of investigating the health care industry, reporter Marshall Allen shows how companies and individuals have managed to force medical providers to play fair, and shows how you can, too. He reveals the industry's pressure points and how companies and individuals have fought overbilling, price gouging, insurance denials, and more to get the care they deserve. Laying out a practical plan for protecting yourself against the system's predatory practices, Allen offers the inspiration you need and tried-and-true strategies such as:

Analyze and contest your medical bills, so you don't pay more than you should
Obtain the billing codes for a procedure in advance
Write in an appropriate treatment clause before signing financial documents
Get your way by suing in small claims court

Few politicians and CEOs have been willing to stand up to the medical industry. It is up to the American people to equip ourselves to fight back for the sake of our families--and everyone else.
About the Author
---
Marshall Allen is a reporter for ProPublica, where he covers the health care industry. He is a Pulitzer Prize finalist and recipient of the Harvard Kennedy School's Goldsmith Prize for Investigative Reporting. He teaches investigative reporting at the Newmark Graduate School of Journalism at the City University of New York, and has spoken at various conferences across the country. Prior to journalism, he spent five years in full-time ministry, including three years in Kenya.