Beware the Woman (Hardcover)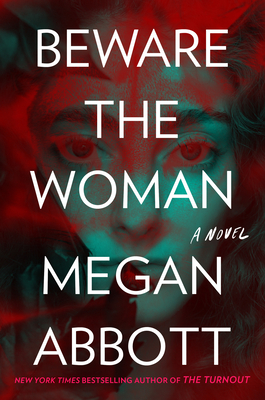 Description
---
An NPR Best Book of the Year

By the "master of thinly veiled secrets often kept by women who rage underneath their delicate exteriors" (Kirkus Reviews), Beware the Woman is Megan Abbott at the height of her game.

Honey, I just want you to have everything you ever wanted. That's what Jacy's mom always told her. And Jacy felt like she finally did. Newly married and with a baby on the way, Jacy and her new husband, Jed, embark on their first road trip together to visit his father, Dr. Ash, in Michigan's far-flung Upper Peninsula. The moment they arrive at the cottage snug within the lush woods, Jacy feels bathed in love by the warm and hospitable Dr. Ash, if less so by his house manager, the enigmatic Mrs. Brandt.

But their Edenic first days take a turn when Jacy has a health scare. Swiftly, vacation activities are scrapped, and all eyes are on Jacy's condition. Suddenly, whispers about Jed's long-dead mother and complicated family history seem to eerily impinge upon the present, and Jacy begins to feel trapped in the cottage, her every move surveilled, her body under the looking glass. But are her fears founded or is it simply paranoia, or cabin fever, or—as is suggested to her—a stubborn refusal to take necessary precautions? The dense woods surrounding the cottage are full of dangers, but are the greater ones inside?
About the Author
---
Megan Abbott is the award-winning author of eleven novels, including New York Times bestseller The Turnout, which won the Los Angeles Times Book Prize, Give Me Your Hand, You Will Know Me, The Fever, Dare Me, and The End of Everything. She received her PhD in literature from New York University. Her writing has appeared in The New York Times, The Wall Street Journal, the Los Angeles Times Magazine, The Guardian, and The Believer. She's the cocreator and executive producer of USA's adaptation of Dare Me, now on Netflix, and was a staff writer on HBO's David Simon show The Deuce. Abbott lives in New York City.
Praise For…
---
One of CrimeReads Best Crime Novels of the Year
One of LitHub's Most Anticipated Books of 2023
One of CrimeReads' Most Anticipated Crime Fiction of 2023
One of Paste Magazine's Most Anticipated Thrillers of 2023
One of Publishers Weekly's Best Summer Reads 2023
One of TIME's Best Books of May 2023
One of CrimeReads' Best Psychological Thrillers of May
One of USA Today's Hottest New Books
One of Philadelphia Inquirer's Best New Books of June
One of BookPage's Best Thrillers of June
One of Orange County Register's Must-Read Mysteries

"Abbott writes gripping thrillers, and a story about how pregnancy intersects with privacy, self-determination and safety – even for women in "good" situations – could not have come at a better time." —Linda Holmes, NPR's "Books We Love"

"Beware the Woman takes romantic suspense to the far edge of melodrama. . . . Abbott's storytelling talent is on fine display here. We're gripped from the first page and soon in the spell of an enchantment. . . . Abbott has undeniably given us a story we'll never forget." —Wall Street Journal

"In Megan Abbott's Beware the Woman, entrapment creeps in stealthily. . . . [Abbott] inhabits the unique literary space she's created with specificity and febrile intensity." —Air Mail

"[Beware the Woman] has a real Rosemary's Baby vibe. It's creepy. . . . I could not stop turning the pages." –John Searles, Today Show "Summer Picks"

"Megan Abbott, the queen of creepy stories, is back with another nailbiter. This time she delivers a modern-day gothic tale reminiscent of Rebecca and Rosemary's Baby. . . . Get your night light ready because all is definitely not what it seems in this spine-chilling tale." —Serendipity Magazine

"A stylish, sensual thriller that unfolds like a fever dream, with Abbott's uncanny talents on display like never before. From the first page, we're launched into a rich feeling of claustrophobia. . . . Abbott handles every new suspicion and revelation with a craftsman's care, but what really elevates this novel is the pitch-perfect atmosphere, crafted with an immediacy and a physicality that make the reading at once disorienting and utterly thrilling." —CrimeReads

"Abbott is a superstar of the suspense genre. . . . Beware the Woman is Rebecca wedded to Margaret Atwood's The Handmaid's Tale. Along with the feverish psychological twists and turns that Abbott's novels are celebrated for, Beware the Woman explores the timely topic of women's autonomy over their own bodies." —NPR

"Megan Abbott stands in her own league. . . . Superb, suspense-laden Beware the Woman, a novel that delves into manipulation . . . Abbott's affinity for finely tuned pacing enhances the tension as Beware the Woman delves into in-depth character studies, misogynistic behavior, and love. . . . Abbott continues to be a provocative writer." —Shelf Awareness

"Compelling." –Minneapolis Star-Tribune

"A slow-burning novel of almost unbearable tension, with a compelling, poetic narrative voice, an unsettling delirious atmosphere, an abundance of darkly funny one-liners and a plot that dramatizes, incisively, issues around patriarchy and female bodily autonomy; the violent, shocking, pulpy climax is splendidly lurid. A new Megan Abbott is a major event; she is always essential reading." —The Irish Times

"Megan Abbott has gained a well-deserved reputation for writing psychological thrillers that deftly probe the darkness that lurks around the perimeters of many women's lives. Her latest novel, Beware the Woman, does so in a particularly effective way, combining the claustrophobia of geographic isolation with the vulnerabilities of pregnancy to tell one woman's harrowing story. . . . Readers won't soon forget Jacy's fierce yet frightened internal monologue as she struggles to make sense of her situation—and survive it." —Book Reporter

"A cabin-fever suspense novel laced with menacing Rosemary's Baby-ish undertones." —Philadelphia Inquirer

"Timely and terrifying." —People

"Imagine Get Out but with feminist themes . . . Dripping with tense confrontations, curiously dead wives, and the gendered expectations that accompany both. It's a suspenseful page-turner." —Vulture

"Megan Abbott, master of crime fiction told through the female lens, has written another novel brimming with suspense. . . . Abbott spins an enigmatic web of foreboding and unease as she delves into family secrets and gender politics." —TIME

"With this bewitchingly creepy tale, thriller queen Megan Abbott keeps readers questioning whether this family getaway is the stuff of anxiety dreams or Bluebeard nightmares." —Oprah Daily

"For fans of remote mysteries, eerie situations, and the trope am-I-imagining-the-danger-or-is-the-danger-for-real?!" —Book Riot

"Megan Abbott goes Rosemary's Baby!" —CrimeReads

"Abbott, a prolific author of noir and suspense, is famed for her uncanny facility with the interior lives of young women....In a genre that can be numbingly formulaic and indifferently composed, she remains a masterful builder of mood, her voluptuous prose heavy with sex and weather." —The New York Times Book Review

"Terrific at finding dread around every corner, at making you see the grotesque and frightening in something previously mundane…Beware the Woman is a master class in suspense, with Abbott's sentences and paragraphs seeming to get more breathless as the novel progresses, mirroring the rhythm of an increasingly frantic Jacy's pounding heart." —The Seattle Times

"Beware the Woman is a superb psychological thriller in all respects, evoking comparisons to nightmarish tales by the likes of Lisa Gardner and Harlan Coben. But there are also echoes of Daphne du Maurier and even Stephen King here, with Lacy serving as a narrator whose reliability is in question." —BookTrib

"Abbott has constructed the plot of Beware the Woman with such wicked skill . . . [and] many sharply honed twists and whiplash surprises. Her vivid prose and white-knuckle pacing accelerate the book to its last shock." —Tampa Bay Times

"Abbott is one of the most skilled architects of suspense alive . . . . For sheer escalating tension, Beware the Woman rates right up there with Stephen King's Misery; it just shouts to be read in one sitting." —BookPage

"Another knockout performance…Abbott is an accomplished storyteller…and this is one of her most compelling and well-constructed novels. A real treat for the author's many fans and for everyone who treasures that sense of Gothic-tinged trouble both within and without. Think Rebecca in the UP. Abbott was once a cult favorite, but those times are long gone. She's a crime-fiction A-lister now." –Booklist (starred review)

"[A] spine-tingling suspense…Manipulating the sense of menace like a virtuoso violinist, Abbott expertly foreshadows the wrenching family secrets that are exposed in a ferocious finale. Sinewy prose and note-perfecting pacing make this a masterful and provocative deep dive into desire, love, and gender politics. Readers will be left breathless." –Publishers Weekly (starred review)

"In this Rosemary's Baby–esque tale, Abbott creates a summer psychological thriller that tempts the onset of goosebumps, with the devil hiding behind a handsome face or two." —Library Journal

"Abbott masterfully uses the pretext of a pregnant woman's heightened senses…to build a claustrophobic atmosphere of mistrust and insecurity reminiscent of Get Out.  You're sure to get chills. An unsettling, nightmare-inducing morsel from a master of suspense." —Kirkus Reviews

"Beware the Woman is Megan Abbott at her best, which is about as good as it gets. A modern-day Gothic, it is chilling and creepy, feverish and surreal, and compulsively readable." —Laura Lippman, author of Prom Mom

"Megan Abbott can do no wrong. Stunningly twisty, Beware the Woman so deftly holds some of the most pressing feminist issues of our time in an eerie, ominous grip. Bodily autonomy, reproduction, patriarchal power—this thriller feels terrifyingly of the moment, and perhaps that's where the truest horror lies." —Ashley Audrain, author of The Push

"Is there anyone like Megan Abbott? Beware the Woman is the work of a fearless cartographer of the darkest, seediest, most gloriously haunted landscapes of the human heart and psyche." —Kelly Link, author of White Cat, Black Dog

"Beware the Woman proves yet again why Megan Abbott is a literary rock star. Feverish, razor sharp, and pulsing with dread, it's a tale both timeless and terrifyingly of-the-moment."
—Riley Sager, author of The House Across the Lake