Power Failure: The Rise and Fall of an American Icon (Hardcover)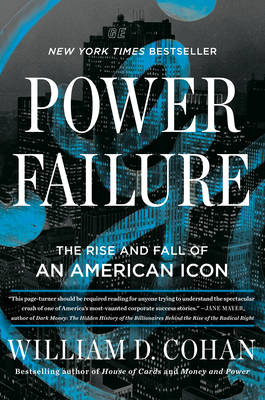 Description
---
NEW YORK TIMES BESTSELLER

The New Yorker Best Books of 2022 • Financial Times Best Books of 2022 • The Economist Best Books of 2022

The dramatic rise—and unimaginable fall—of America's most iconic corporation by New York Times bestselling author and pre-eminent financial journalist William D. Cohan

No company embodied American ingenuity, innovation, and industrial power more spectacularly and more consistently than the General Electric Company. GE once developed and manufactured many of the inventions we take for granted today, nearly everything from the lightbulb to the jet engine. GE also built a cult of financial and leadership success envied across the globe and became the world's most valuable and most admired company. But even at the height of its prestige and influence, cracks were forming in its formidable foundation.

In a masterful re-appraisal of a company that once claimed to "bring good things to life," pre-eminent financial journalist William D. Cohan argues that the incredible story of GE's rise and fall is not only a paragon, but also a prism through which we can better understand American capitalism. Beginning with its founding, innovations, and exponential growth through acquisitions and mergers, Cohan plumbs the depths of GE's storied management culture, its pioneering doctrine of shareholder value, and its seemingly hidden blind spots, to reveal that GE wasn't immune from the hubris and avoidable mistakes suffered by many other corporations.

In Power Failure, Cohan punctures the myth of GE, exploring in a rich narrative how a once-great company wound up broken and in tatters—a cautionary tale for the ages.
About the Author
---
A former Wall Street investment banker for seventeen years, William D. Cohan is the New York Times bestselling author of The Price of Silence, Money and Power, House of Cards, and The Last Tycoons, which won the 2007 FT/Goldman Sachs Business Book of the Year Award. He also wrote Four Friends: Promising Lives Cut Short and Why Wall Street Matters. He was a longtime special correspondent at Vanity Fair and is a founding partner of Puck, a new digital media venture. He writes often for the opinion pages of The New York Times and The Financial Times and he is a writer at large for AirMail. Over the years, he has also written for Bloomberg Businessweek, Fortune, The Atlantic, Institutional Investor, The New York Times, The Nation, and The Washington Post, among other publications. Cohan is a graduate of Duke University, the Columbia University School of Journalism, and the Columbia University Graduate School of Business.
Praise For…
---
"An epic piece of work."  
—MIKE BARNICLE, MSNBC Morning Joe

"A riveting, magisterial work of business history."
—FAST COMPANY

"A sweeping tale of ambition, arrogance, egos, and feuds—and how they brought down a once-great company."
—KIRKUS REVIEWS

"Meticulously researched . . . Cohan's access to the major players bears significant fruit, and the resulting narrative is dramatic without being overblown, making for a gripping account of a corporate behemoth and the men who ran it. Business history buffs, take note."
—PUBLISHER'S WEEKLY

"Absorbing . . . a book so comprehensive it gives the impression that all that can be said about Jack has finally been said."
—MACOLM GLADWELL, The New Yorker

"Often-engrossing account of the unraveling of General Electric Co. . . . rich anecdotes of what transpired in the boardroom and how these captains of industry doomed what was once a great company."
—THE WALL STREET JOURNAL

"[Cohan's] account of the internal political machinations that accompanied GE's humiliating decline is backed by impressive research and remarkable access to the key actors, notably Welch . . . It all makes for gripping reading . . . a tour de force."
—FINANCIAL TIMES

"Well-researched and compelling . . . Cohan suggests the fall wasn't inevitable. But personal ambition and feuds hastened G.E.'s undoing, providing a useful case study for any corporate leader."
—ANDREW ROSS SORKIN, DealBook newsletter

"If corporations can be said to have personalities then journalist William D. Cohan is one of his generation's most adept analysts of the quirks, neuroses, and pathologies that drive them to success or failure . . . the rise and fall of GE's recent top executives, especially Jack Welch and Jeff Immelt, is well-trod territory, but Cohan brings new insight to their reigns. He also delves much deeper and further back than others have for clues in what shaped this company and how it, in turn, shaped our corporate culture."
—TOWN & COUNTRY

"Cohan's thorough research and interviews with Jack Welch and others give readers a firsthand look at the rise and fall of an American institution."
—LIBRARY JOURNAL

"The story of General Electric is, in part, the story of American capitalism writ large. In Cohan's capable hands it is also the story of people — people both extraordinarily gifted and monumentally flawed. It is the people who keep the 800-plus pages of Power Failure turning."
—THE BERKSHIRE EAGLE

"This exhaustively researched and insightful history of General Electric from Air Mail Writer at Large William D. Cohan puts into enlightening context the company's groundbreaking rise, its cult of financial leadership and success—once the envy of the world—and its unimaginable fall."
—AIR MAIL, "Best Books of 2022"

"This page-turner should be required reading for anyone trying to understand the spectacular crash of one of America's most-vaunted corporate success stories."
—JANE MAYER, author of Dark Money: The Hidden History of the Billionaires Behind the Rise of the Radical Right

"General Electric was once the most important, powerful, and influential company on Earth—and this is the definitive story of how it got that way and what happened next. William Cohan takes us inside the company's boardrooms and factories with a rollicking and fascinating tale of corporate brilliance, bitter infighting, business daring, and monied folly that illuminates not just General Electric but the world and economy it helped create."
—CHARLES DUHIGG, bestselling author of The Power of Habit and Smarter Faster Better

"With the sweep and authority of an accomplished historian, the digging of a fearsome investigative reporter, and the storytelling skills of a novelist, Bill Cohan takes us from the nineteenth-century birth of GE, to its rise as America's most-valued company in the twentieth, to its near death in the twenty-first. With incredible access to Jack Welch and the major actors in this drama, he paints a panoramic view of America and of capitalism, how it has changed and still must." 
—KEN AULETTA, bestselling author and contributor to The New Yorker

"Cohan rides this wild tale like a racehorse to the bitter end. It's all here: the birth of this most American of inventive American companies and the triumphs, flaws, and missteps to come. If at 130 years old, GE has indeed fallen, this masterful work remains." 
—MARK SEAL, author of Leave the Gun, Take the Cannoli: The Epic Story of the Making of The Godfather

"For most of our lives GE was one of the familiar, trusted U.S. companies, and in the early 2000s still the biggest company on Earth. In one generation this icon of the American corporate imperium has turned into an icon of American corporate failure. We're fortunate that the great business chronicler William Cohan has now applied his extraordinary reporting skills and lucid, knowing prose to tell this story in breathtaking detail from beginning to bitter end. Power Failure is fascinating and definitive." 
—KURT ANDERSEN, bestselling author of Evil Geniuses: The Unmaking of America

"This epic tale of arguably the most dominant corporation in American history has it all: money, power, sex, and larger-than-life characters, from Thomas Edison to "Teflon Jack" Welch and beyond. Cohan's fine pacing and narrative flair make for a page-turner that becomes a compelling story of American capitalism itself." 
—JONATHAN ALTER, author of His Very Best: Jimmy Carter, a Life

"Power Failure by William Cohan is a tour de force of reporting, a deeply researched chronicle of the flawed personalities and dysfunctional company politics that led General Electric, once hailed as the great American corporate success, to self-destruct. The story reads like a tragedy."
—LIAQUAT AHAMED, author of Lords of Finance and winner of the Pulitzer Prize