Boyle Heights: How a Los Angeles Neighborhood Became the Future of American Democracy (American Crossroads #59) (Paperback)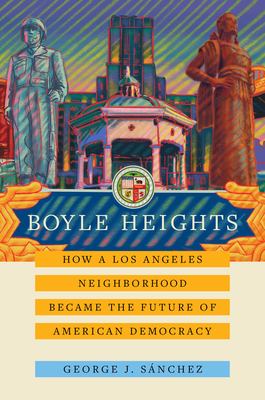 $24.95

Available from our Distributors - Usually arrives in-store in 2-7 days
Description
---
The radical history of a dynamic, multiracial American neighborhood.

"When I think of the future of the United States, and the history that matters in this country, I often think of Boyle Heights."—George J. Sánchez

The vision for America's cross-cultural future lies beyond the multicultural myth of the "great melting pot." That idea of diversity often imagined ethnically distinct urban districts—the Little Italys, Koreatowns, and Jewish quarters of American cities—built up over generations and occupying spaces that excluded one another. But the neighborhood of Boyle Heights shows us something altogether different: a dynamic, multiracial community that has forged solidarity through a history of social and political upheaval.

Boyle Heights is an in-depth history of the Los Angeles neighborhood, showcasing the potent experiences of its residents, from early contact between Spanish colonizers and native Californians to the internment of Japanese Americans during World War II, the hunt for hidden Communists among the Jewish population, negotiating citizenship and belonging among Latino migrants and Mexican American residents, and beyond. Through each period and every struggle, the residents of Boyle Heights have maintained remarkable solidarity across racial and ethnic lines, acting as a unified polyglot community even as their tribulations have become more explicitly racial in nature. Boyle Heights is immigrant America embodied, and it can serve as the true beacon on a hill toward which the country can strive in a time when racial solidarity and civic resistance have never been in greater need.
About the Author
---
George J. Sánchez is the author of the award-winning book Becoming Mexican American and is Professor of American Studies and Ethnicity and History at the University of Southern California. He is the 2020–2021 President of the Organization for American Historians.
 
Praise For…
---
"Pathbreaking civic history. . . . A historical journey through the beginning, middle, and present of one of Los Angeles's most prominent neighborhoods. Sánchez counters the fear that shrouds its image and allows us to understand why this neighborhood is the way it is — powerful and pure of heart."
— Los Angeles Review of Books
"In the annals of Chicanx history, only a few historians stand heads and shoulders above the rest. One of those is George J. Sánchez whose recent publication . . . leaves off where his award-winning Becoming Mexican American made its mark roughly three decades ago."
— Latino Book Review
"A remarkable book."
— Housing Studies
"The author has written this valuable history in clear and concise language. Scholars as well as civic activists and government officials concerned with social and racial justice and with urban planning will find the book useful and enlightening. It would also work well in graduate and upper-level undergraduate courses concerned with those areas. The interested layperson will find it straightforward and comprehensible​."
— Journal of Urban Affairs
"Coherent, sweeping, dazzling." 
— Pacific Historical Review