Arrowsmith (Mass Market)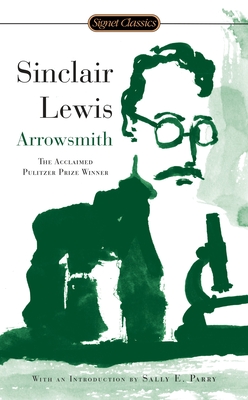 $7.95

On Our Shelves Now - Please call to confirm stock for hot titles
Description
---
With an afterword by E. L. Doctorow—the Pulitzer Prize-winning novel of one man's pursuit of intellectual freedom in the face of ignorance and corruption, from the author of Babbit

Arrowsmith, the most widely read of Sinclair Lewis's novels, is the incisive portrait of a man passionately devoted to science. As a bright, curious boy in a small Midwestern town, Martin Arrowsmith spends his free time in old Doc Vickerson's office avidly devouring medical texts. Destined to become a physician and a researcher, he discovers that societal forces of ignorance, greed, and corruption can be as life-threatening as the plague. 

Part satire, part morality tale, Lewis's Pulitzer Prize-winning novel illuminates the mystery and power of science while giving enduring life to a singular American hero's struggle for integrity and intellectual freedom in a small-minded world.

With an Introduction by Sally E. Parry 
and an Afterword by E. L. Doctorow
About the Author
---
Harry Sinclair Lewis (1885–1951) was born in Sauk Centre, Minnesota, the son of a country doctor. After graduating from Yale in 1907, he went to New York, tried freelance work for a time, and then worked in a variety of editorial positions from the East Coast to California. Main Street (1920) was his first successful novel. In the decade that followed, Lewis published four other acclaimed novels of social criticism—Babbitt (1922), Arrowsmith (1925), Elmer Gantry (1927), and Dodsworth (1929). In 1930 he became the first American to win the Nobel Prize for literature. He continued to write both novels and plays for another two decades, publishing his last work, World So Wide (1951), shortly before his death in Rome.

Sally E. Parry is Associate Dean, College of Arts and Sciences, and Director of General Education at Illinois State University. She is currently the Executive Director of the Sinclair Lewis Society and editor of the Sinclair Lewis Society Newsletter. She has edited two collections of short stories by Sinclair Lewis, Go East, Young Man: Sinclair Lewis on Class in America (2005) and The Minnesota Stories of Sinclair Lewis (2005), and with Robert L. McLaughlin, written We'll Always Have the Movies: American Cinema During World War II (2006). 

E. L. Doctorow is one of America's preeminent men of letters. His novels include The Waterworks, Ragtime, The Book of Daniel, Loon Lake, World's Fair, Lives of the Poets, Billy Bathgate, and Welcome to Hard Times. His work has garnered the National Book Critics Circle Award twice, the National Book Award, the PEN/Faulkner Award, the Edith Wharton Citation for Fiction, and the William Dean Howells medal of the American Academy of Arts and Letters.