The Aeronaut's Windlass (The Cinder Spires #1) (Paperback)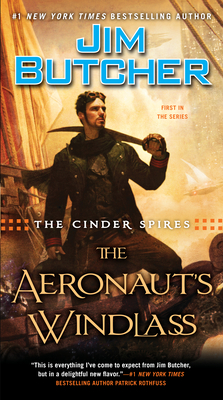 Other Books in Series
This is book number 1 in the The Cinder Spires series.
Description
---
Jim Butcher, the #1 New York Times bestselling author of the Dresden Files and the Codex Alera novels, conjures up a new series set in a fantastic world of noble families, steam-powered technology, and magic-wielding warriors...
 
Since time immemorial, the Spires have sheltered humanity. Within their halls, the ruling aristocratic houses develop scientific marvels, foster trade alliances, and maintain fleets of airships to keep the peace.
 
Captain Grimm commands the merchant ship Predator. Loyal to Spire Albion, he has taken their side in the cold war with Spire Aurora, disrupting the enemy's shipping lines by attacking their cargo vessels. But when the Predator is damaged in combat, Grimm joins a team of Albion agents on a vital mission in exchange for fully restoring his ship.
 
And as Grimm undertakes this task, he learns that the conflict between the Spires is merely a premonition of things to come. Humanity's ancient enemy, silent for more than ten thousand years, has begun to stir once more. And death will follow in its wake...
About the Author
---
A martial arts enthusiast whose résumé includes a long list of skills rendered obsolete at least two hundred years ago, #1 New York Times bestselling author Jim Butcher turned to writing as a career because anything else probably would have driven him insane. He lives mostly inside his own head so that he can write down the conversation of his imaginary friends, but his head can generally be found in Independence, Missouri. Jim is the author of the Dresden Files, the Codex Alera novels, and the Cinder Spires series, which began with The Aeronaut's Windlass.
Praise For…
---
"So Jim Butcher is writing futuristic dystopian steampunk? You had me at Jim Butcher, actually. But the rest is cool too....Great action scenes, a fascinating world, and characters of a sort I've never seen before. Yup. This is everything I've come to expect from Jim Butcher, but in a delightful new flavor."—#1 New York Times bestselling author Patrick Rothfuss
 
"Wow. Just wow. Beware fellow readers, herein lies adventure that will keep you from food or rest…It is as if Jules Verne, H. Rider Haggard, Patrick O'Brien and...well, Jim Butcher all got together and wrote a book. Steampunk done very, very right. Butcher proves yet again that he is an amazing storyteller."—#1 New York Times bestselling author Patricia Briggs
 
"This is Jim Butcher at his best, drawing a fully realized, richly detailed, and downright fun literary world where fearless aeronauts ride the aether, brilliant wizards struggle with doorknobs, and a thirty-pound feline warrior keeps a pet human named Little Mouse. It's steampunk meets magic with a dose of sci-fi for seasoning. Buy it and read it. You'll be glad you did."—New York Times bestselling author David Weber
 
"Butcher opens the imaginative Cinder Spires series with this sweeping fantastical epic...[It's] a fascinating, adventurous, and intricate story. Butcher brings a fresh and exciting perspective to secondary-world steampunk, giving the reader a thrilling ride."—Publishers Weekly (starred review)
 
"Butcher, the bestselling author of the Dresden Files, now launches the Cinder Spires, a new epic fantasy, steampunk hybrid series that has shades of both Naomi Novik and Cherie Priest...With shifting points of view, short chapters, fast-paced action, and awesome battle scenes, the large cast of characters, elaborate world building, and intricate plot are revealed quickly and realized fully. It all reminds readers of when they first fell for Harry Dresden."—Booklist (starred review)
 
"[Butcher] blends familiar steampunk and fantasy elements (airships, wizardry, and heroes from a monarch's guard) in a fresh and wonderful way that results in a fantastic ride. This should well satisfy fans of fantasy, sf, or their stepchild steampunk."—Library Journal (starred review)