Serpentine (Anita Blake, Vampire Hunter #26) (Hardcover)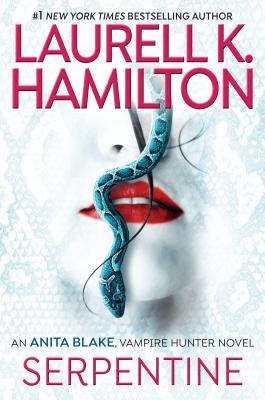 $28.00
This title is likely Out of Print or otherwise unavailable
Other Books in Series
This is book number 26 in the Anita Blake, Vampire Hunter series.
Description
---
Vampire hunter Anita Blake has always managed to overcome everything she faces. But this time there's a monster that even she doesn't know how to fight...

A remote Florida island is the perfect wedding destination for the upcoming nuptials of Anita's fellow U.S. Marshal and best friend, Edward. For Anita, the vacation is a welcome break, as it's the first trip she gets to take with just wereleopards Micah and Nathaniel. But it's not all fun and games and bachelor parties… 

In this tropical paradise, Micah discovers a horrific new form of lycanthropy, one that has afflicted a single family for generations. Believed to be the result of an ancient Greek curse, it turns human bodies into a mass of snakes. 

When long-simmering resentment leads to a big blow-up within the wedding party, the last thing Anita needs is more drama. But it finds her anyway when women start disappearing from the hotel, and worse, her own friends and lovers are considered the prime suspects. There's a strange power afoot that Anita has never confronted before, a force that's rendering those around her helpless. Unable to face it on her own, Anita is willing to accept help from even the deadliest places. Help that she will most certainly regret—if she survives at all, that is…
About the Author
---
Laurell K. Hamilton is a full-time writer and the #1 New York Times bestselling author of the Anita Blake, Vampire Hunter series and the Merry Gentry series. She lives in a suburb of St. Louis with her family.
Praise For…
---
Praise for Laurell K. Hamilton and the Anita Blake Novels

"Hamilton remains one of the most inventive and exciting writers in the paranormal field."—#1 New York Times bestselling author Charlaine Harris

"If you've never read this series, I highly recommend/strongly suggest having the Anita Blake experience. Vampires, zombies, and shifters, oh my! And trust me, these are not your daughter's vampires."—Literati Book Reviews

"A sex-positive, kick-ass female protagonist."—Starburst 

"Number one New York Times bestseller Hamilton is still thrilling fans...with her amazing multifaceted characters and intricate multilayered world, a mix of erotic romance, crime drama, and paranormal/fantasy fiction. Her descriptive prose is gritty and raw, with a mosaic of humor and horror to tell this complex, well-detailed story. But it's her enigmatic stable of stars that continues to shine, managing their improbable interpersonal relationship dynamics."—Library Journal