One Day: The Extraordinary Story of an Ordinary 24 Hours in America (Paperback)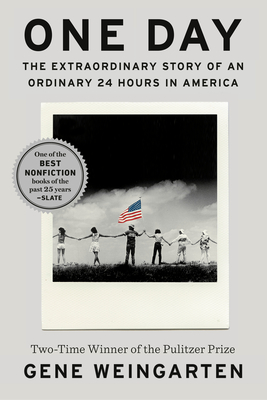 $17.00

Available from our Distributors - Usually arrives in-store in 2-7 days
Description
---
"One of the 50 Best Nonfiction Books of the Last 25 Years"—Slate

On New Year's Day 2013, two-time Pulitzer Prize winner Gene Weingarten asked three strangers to, literally, pluck a day, month, and year from a hat. That day—chosen completely at random—turned out to be Sunday, December 28, 1986, by any conventional measure a most ordinary day. Weingarten spent the next six years proving that there is no such thing.
 
That Sunday between Christmas and New Year's turned out to be filled with comedy, tragedy, implausible irony, cosmic comeuppances, kindness, cruelty, heroism, cowardice, genius, idiocy, prejudice, selflessness, coincidence, and startling moments of human connection, along with evocative foreshadowing of momentous events yet to come. Lives were lost. Lives were saved. Lives were altered in overwhelming ways. Many of these events never made it into the news; they were private dramas in the lives of private people. They were utterly compelling.
 
One Day asks and answers the question of whether there is even such a thing as "ordinary" when we are talking about how we all lurch and stumble our way through the daily, daunting challenge of being human.
About the Author
---
Gene Weingarten is a Washington Post journalist. He writes long-form stories as well as Below the Beltway, the weekly syndicated humor column. His previous books include I'm With Stupid: One Man. One Woman. 10,000 Years of Misunderstanding Between the Sexes Cleared Right Up (with Gina Barreca); The Hypochondriac's Guide to Life. And Death; Old Dogs: Are the Best Dogs; and The Fiddler in the Subway, a collection of his best-known work. Weingarten is the only two-time winner of the Pulitzer Prize for feature writing, for examining the phenomenon of parents who accidentally leave their children to bake to death in hot cars, and for an experiment in which he arranged for famed violinist Joshua Bell to busk incognito outside a Metro station in Washington to see if anyone would notice.

He lives in Washington, D.C.
Praise For…
---
One of the 50 Best Nonfiction Books of the Last 25 Years
Slate

A Best Book of the Year
The Washington Post
Slate
Parade
New York Post
The Milwaukee Journal-Sentinel

"The book adds up to something greater than the individual stories…. Weingarten taps into the wonder of what it is to be alive."—Mike Hill, for the Associated Press

"An absorbing snapshot of America."—The New Yorker

More praise for One Day
"As I've gotten older, I've become less interested in elaborate fictions or spectacular histories and just want to know how life is lived. I want a book about how other humans get things and lose things, and deal with both, how they cope and how they fail and how they live and how they die. This is the book I've been waiting for. The people described in this book are wonderful and flawed, some of them evil, some of them impossibly good. But none of them have lived the kind of lives that normally get told in books, and in finally seeking them out and telling their stories, Gene has done them, and us, a priceless service."—Peter Sagal, host of NPR's "Wait Wait... Don't Tell Me!" and author of The Incomplete Book of Running

"Extraordinary tales from an ordinary day, masterfully fashioned. Because Weingarten is such a compelling storyteller, it's easy to overlook how much A+  journalism undergirds One Day. Every detail, every quote, is not just the answer to a question; it's the answer to precisely the right question."—Garry Trudeau, creator of Doonesbury

"I loved this book. I ripped through it in an evening. I couldn't put it down."—Petra Mayer on NPR's "Here & Now"

"An excellent book…humble yet profound."—Guardian 

"[Weingarten has] uncommon storytelling gifts.... The two-time Pulitzer winner and Washington Post columnist takes a single day in history and weaves together multiple stories of tragedy, revelation and wonder. One Day is full of scenes and wordsmithing that can make a reader elbow her partner in the ribs and force him to listen to a read-aloud. That's the hallmark of memorable feature writing. More, please."—Washington Post

"One of the Best Books of 2019."—Washington Post
 
"A captivating portrait of a day in the life of the United States by a much-honored Washington Post journalist... One of the finest plain-prose stylists in American journalism, Weingarten tells his elegantly structured stories without sentimentality or melodrama... A slice of American life carved out by a master of the form."—Kirkus Reviews (starred review) 

"Everybody loves a good story, especially when it's told by a master storyteller. This collection should have wide appeal, whether read straight through, cover to cover, or dipped into for an occasional article."—Booklist (starred review)

"[One Day] is a stunt, a dare, but it's also proof of the belief that animates all the books on this list: There are stories everywhere. The nonfiction writer's job is to look long and hard enough to find them, and to tell them with enough empathy and care to bring them to life."—Slate

"By paying close attention, Mr. Weingarten opens our eyes to the potent meanings of everyday stories all around us…. As the minutes tick by toward midnight, Gene Weingarten's powerful retellings elevate the ordinary to the extraordinary and yield to an awakened sense of awe."—Pittsburgh Post-Gazette

"One Day…includes a serial killer, a famous band, a helicopter crash, and a tragic fire. But it also includes more prosaic stories that testify to the premise of the book: Stories are everywhere, and every one is interesting; all it takes is a reporter dogged enough to find people's stories, and tell them."—Slate

"A trove of compelling human-interest pieces with long reverberations."—Publishers Weekly 

"Much more than a gimmick…full of riveting tales."—Washingtonian

"A brilliant concept deftly researched and presented…an inherently fascinating read. Thoughtful and thought-provoking."—Midwest Book Review

"A master storyteller...a helluva good look at The Human Experience…a collection of ripping yarns."—The Star Tribune 

"Ace writer mines tales from a random Sunday...to organize a book bristling with drama. The journalistic version of a swan dive off a tall ladder into a teacup."—Chicago Sun-Times  

"This snapshot of the nation on one particular day is one that deserves pride of place in America's family album."—Daily Beast

"One of Fall 2019's Biggest Books...Weingarten, who has won two Pulitzers for feature writing, tells it as few can."—The Philadelphia Inquirer

"A fascinating conceit."—USA Today

"Dramatic narrative nonfiction…offer[ing] a new perspective on world history."—USA Today

"Fall books for your must-read list...It is a great book. It's not about anything huge, it's not uncovering murder mysteries or anything, but it makes connections about people's lives in America at that time that reverberates today."—Minnesota Public Radio

"What makes One Day so extraordinary is how Weingarten combines dogged, detailed reporting with beautiful, flowing prose. You seldom see those two attributes combined in one writer."—The Antelope Valley Press