The Second Founding: How the Civil War and Reconstruction Remade the Constitution (Hardcover)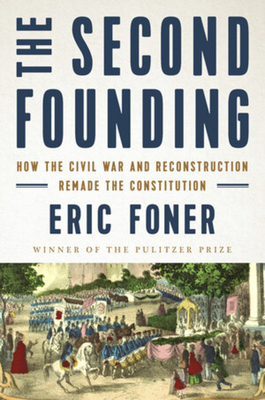 $26.95
This title is likely Out of Print or otherwise unavailable
Description
---
From the Pulitzer Prize–winning scholar, a timely history of the constitutional changes that built equality into the nation's foundation and how those guarantees have been shaken over time.
The Declaration of Independence announced equality as an American ideal, but it took the Civil War and the subsequent adoption of three constitutional amendments to establish that ideal as American law. The Reconstruction amendments abolished slavery, guaranteed all persons due process and equal protection of the law, and equipped black men with the right to vote. They established the principle of birthright citizenship and guaranteed the privileges and immunities of all citizens. The federal government, not the states, was charged with enforcement, reversing the priority of the original Constitution and the Bill of Rights. In grafting the principle of equality onto the Constitution, these revolutionary changes marked the second founding of the United States.
Eric Foner's compact, insightful history traces the arc of these pivotal amendments from their dramatic origins in pre–Civil War mass meetings of African-American "colored citizens" and in Republican party politics to their virtual nullification in the late nineteenth century. A series of momentous decisions by the Supreme Court narrowed the rights guaranteed in the amendments, while the states actively undermined them. The Jim Crow system was the result. Again today there are serious political challenges to birthright citizenship, voting rights, due process, and equal protection of the law. Like all great works of history, this one informs our understanding of the present as well as the past: knowledge and vigilance are always necessary to secure our basic rights.
About the Author
---
Eric Foner is DeWitt Clinton Professor Emeritus of History at Columbia University. In his teaching and scholarship, he focuses on the Civil War and Reconstruction, slavery, and nineteenth-century America. He has served as president of the Organization of American Historians and the American Historical Association. In 2006, he received the Presidential Award for Outstanding Teaching from Columbia University. His most recent books are The Fiery Trial: Abraham Lincoln and American Slavery, winner of the Bancroft and Lincoln Prizes and the Pulitzer Prize for History; Gateway to Freedom: The Hidden History of the Underground Railroad, winner of the New York Historical Society Book Prize; and The Second Founding: How the Civil War and Reconstruction Remade the Constitution.
Praise For…
---
Few reading experiences on the history of race in America have been as profound for me as the works of Eric Foner.
— Henry Louis Gates Jr. - New York Times

Eric Foner has done it again: his concise, superbly researched, beautifully written history of the Civil War amendments chronicles a revolution in law and moral sensibility.
— David W. Blight, Yale University, author of the Pulitzer prize–winning Frederick Douglass: Prophet of Freedom

How are voter suppression, mass incarceration, and jeopardy to the American-born children of undocumented immigrants possible in the land of the free? Eric Foner brings his masterful knowledge of Reconstruction to illuminate the transformative constitutional amendments following the Civil War, and powerfully conveys the ongoing struggles over their meaning.
— Martha Minow, 300th Anniversary University Professor, Harvard University, author of In Brown's Wake: Legacies of America's Educational Landmark
Coverage from NPR