California Exposures: Envisioning Myth and History (Hardcover)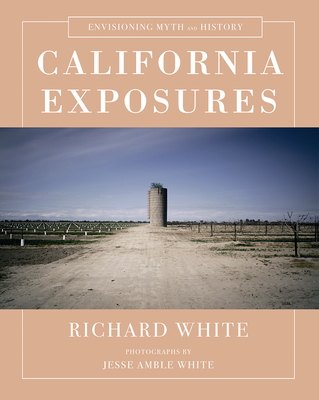 Description
---
Winner of the 2021 California Book Award (Californiana category)



A brilliant California history, in word and image, from an award-winning historian and a documentary photographer.
"This is the West, sir. When the legend becomes fact, print the legend." This indelible quote from The Man Who Shot Liberty Valance applies especially well to California, where legend has so thoroughly become fact that it is visible in everyday landscapes. Our foremost historian of the West, Richard White, never content to "print the legend," collaborates here with his son, a talented photographer, in excavating the layers of legend built into California's landscapes. Together they expose the bedrock of the past, and the history they uncover is astonishing.
Jesse White's evocative photographs illustrate the sites of Richard's historical investigations. A vista of Drakes Estero conjures the darkly amusing story of the Drake Navigators Guild and its dubious efforts to establish an Anglo-Saxon heritage for California. The restored Spanish missions of Los Angeles frame another origin story in which California's native inhabitants, civilized through contact with friars, gift their territories to white settlers. But the history is not so placid. A quiet riverside park in the Tulare Lake Basin belies scenes of horror from when settlers in the 1850s transformed native homelands into American property. Near the lake bed stands a small marker commemorating the Mussel Slough massacre, the culmination of a violent struggle over land titles between local farmers and the Southern Pacific Railroad in the 1870s. Tulare is today a fertile agricultural county, but its population is poor and unhealthy. The California Dream lives elsewhere. The lake itself disappeared when tributary rivers were rerouted to deliver government-subsidized water to big agriculture and cities. But climate change ensures that it will be back—the only question is when.
About the Author
---
Richard White is the author of many acclaimed histories, including the groundbreaking study of the transcontinentals, Railroaded, winner of the LA Times Book Prize and a Pulitzer Prize finalist. He is Margaret Byrne Professor Emeritus at Stanford University, and lives in Los Angeles, California.

Jesse Amble White is a landscape and documentary photographer.
Praise For…
---
White tells his stories with economy, but nevertheless with considerable nuance, subtlety, wry humor, and in fierce confrontation with the unvarnished truth. As its title puns, California Exposures is a powerfully muckraking work, in the great California tradition of Upton Sinclair, Carey McWilliams, and Mike Davis. If one has time for only one book on the history of California, this one stakes a strong claim to being it.

— Wade Graham - Santa Barbara Independent

In this ingenious, entertaining book, Richard White, the preeminent chronicler of the American West, alters our understanding of how the Golden State came to be.
— Geoffrey C. Ward, author of A First-Class Temperament

Every page of this book displays history as surprising, confounding, unsettling, and—more often than the cynical might expect—spirit lifting.
— Patty Limerick, author of The Legacy of Conquest

A master class in how to interpret California landscapes past and present.
— William Cronon, author of Nature's Metropolis

Richard White's brilliance is his ability to excavate history from myth. With wit, grace, and wisdom, he has written an inimitable, indispensable history.
— Miriam Pawel, author of The Browns of California

Richard White's California history is brilliant and dark.
— Anne Hyde, author of Empires, Nations, and Families

A work of art that brings an evocative intimacy and lucidity to California's past.
— Jack E. Davis, author of The Gulf

A deeply original work. No one who reads this book will see the state's landscape in the same way again.
— Claudio Saunt, author of Unworthy Republic

A highly original, important rumination on myth and history, images and words, memories and meaning. This is a beautiful book.
— William Deverell, Director, Huntington-USC Institute on California and the West

Masterful explorations of the Golden State by a leading historian of the American West.
— Kirkus Reviews (starred review)