The Idea of India: 20th Anniversary Edition (Paperback)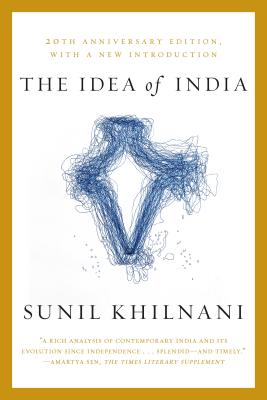 $21.00

Available from our Distributors - Usually arrives in-store in 2-7 days
Description
---
A classic since it was first published in 1997, The Idea of India is a magisterial historical study that addresses the paradoxes and ironies of the world's largest democracy. When, in 1947, the British divided and departed their most prized imperial possession, they handed a huge, diverse, and poor society to a small nationalist elite. For decades this elite would uphold a political construct, an idea of India grounded in democracy, religious tolerance, economic development, and cultural pluralism. Sunil Khilnani investigates the fate of this idea, offering incisive portraits of Gandhi, Nehru, and other Indian founders and assessing the lively debates among them and their successors over who is an Indian, the meaning of modernity, and India's place in the world.

In a new introduction written for this edition, Khilnani reflects on the book's striking relevance to the country's recent developments—from the rise of a new billionaire class to the election of a government with a more exclusivist conception of Indian identity. Throughout, he provokes readers and illuminates a fundamental question as urgent now as ever: Can the original idea of India survive its own successes?
About the Author
---
Sunil Khilnani, born in New Delhi and educated at Cambridge University, teaches politics at Birkbeck College, University of London. The author of Arguing Revolution, he is at work on a biography of Nehru (forthcoming from FSG).
Praise For…
---
"A splendid—and timely—book . . . Spirited, combative and insight-filled . . . Khilnani has woven a rich analysis of contemporary India and its evolution since independence." —Amartya Sen, The Times Literary Supplement

"A masterful rebuttal to all cultural romantics and religious chauvinists . . . [A] splendid book about definitions of the Indian nation." —Ian Buruma, The New York Review of Books

"Khilnani writes with illuminating dexterity, wit and compassion, and India springs to life through his words." —Judith M. Brown, The New York Times Book Review

"[A] short and brilliant book . . . [which] is difficult to praise too highly . . . [It] manages in the space of 200 pages to identify, unravel and explain many of the complexities of modern India." —David Gilmour, The Independent on Sunday