Why Did You Have to Get a Divorce? And When Can I Get a Hamster?: A Guide to Parenting Through Divorce (Paperback)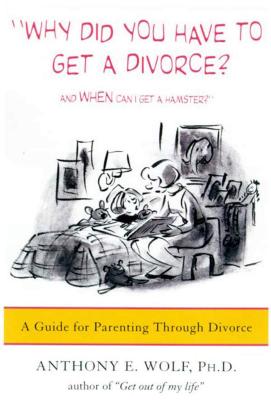 $19.00

Available from our Distributors - Usually arrives in-store in 2-7 days
Description
---
Definitive advice from the author of the bestselling "Get out of my life".

Divorce, argues Anthony E. Wolf, does not have to do long-term damage to a child. In his groundbreaking new book, he shows parents how to steer children through the pain and the complex feelings engendered by divorce, feelings that, if not resolved, can create continuing problems for a child. Wolf also explains how to deal with the difficult issues that so frequently accompany a divorce. How do you tell your child about the divorce? How do you keep your children from being caught between you and your ex-partner? What do you do if that other parent gradually fades out of their lives? Or, how do you maintain strong ties with your children if you are not the primary custodial parent? How do you help them cope with new living arrangements, as well as stepparents or stepsiblings?

"Why did you have to get a divorce?" is filled with stories that parents will recognize with relief. Positive, at times even funny, and, above all, effective, this guide will speak directly to divorcing and divorced parents.
About the Author
---
Anthony E. Wolf, received his Ph.D. in Clinical Psychology from the City University of New York. For the past twenty-five years he has been in private practice seeing children and adolescents in the Springfield, Massachusetts area. Married, Dr. Wolf is the father of two grown children. He has written five books on parenting and numerous articles, which have appeared in such magazines as Child Magazine, Parents, and Family Circle. He has also written a monthly column for Child Magazine.
Praise For…
---
"When you read this book, you will think Dr. Wolf has been camping out at your house and taking notes. His insight into what children go through during separation or divorce, combined with his practical advice for parents, adds up to an immensely readable and useful book for a difficult time. It will make you feel there is hope that your children can survive the ordeal, and even thrive." —Pamela Abrams, Editor in Chief, Child

"A welcome balance to the many negative views about the effects of divorce on children. I believe that parents will find this guide to be helpful, honest, reassuring and realistic." —Fran Litman, Director, Center for Parenting Studies, Wheelock College