Conversation at Princeton (Hardcover)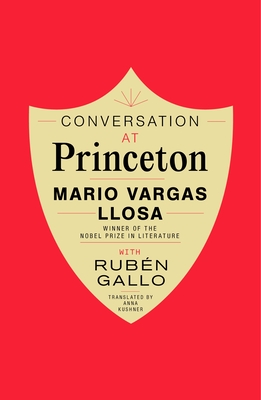 $28.00

Available from our Distributors - Usually arrives in-store in 2-7 days
Description
---
A series of conversations held at Princeton University between the Nobel laureate Mario Vargas Llosa and Rubén Gallo.

Princeton University, 2015. For one semester, Mario Vargas Llosa taught a course on literature and politics with Rubén Gallo. Over several classes, the two writers spoke to students about the theory of the novel and the relationship between journalism, politics, and literature through five beloved books by the Nobel laureate: Conversation in The Cathedral, The Real Life of Alejandro Mayta, Who Killed Palomino Molero?, A Fish in the Water, and The Feast of the Goat.

Conversation at Princeton records these exhilarating discussions and captures the three complementary perspectives that converged in the classroom: that of Vargas Llosa, who reveals the creative process behind his novels; that of Rubén Gallo, who analyzes the different meanings the works took on after their publication; and that of the students, whose reflections and questions give voice to the responses of millions of Vargas Llosa's readers.

During these talks, Vargas Llosa not only speaks with intelligence and lucidity about the craft of writing, but also offers an absorbing, inquisitive analysis of today's political and cultural landscape. Conversation at Princeton is a singular opportunity to attend a unique master class on literature and society taught by one of our greatest writers and thinkers.
About the Author
---
Mario Vargas Llosa was awarded the Nobel Prize in Literature "for his cartography of structures of power and his trenchant images of the individual's resistance, revolt, and defeat." He has also won the Miguel de Cervantes Prize, the Spanish-speaking world's most distinguished literary honor. His many works include The Feast of the Goat, In Praise of the Stepmother, and Aunt Julia and the Scriptwriter, all published by FSG.

Rubén Gallo is the author of several books, including Proust's Latin Americans, Freud's Mexico: Into the Wilds of Psychoanalysis, and the novel Muerte en La Habana. He is the Walter S. Carpenter, Jr., Professor in Language, Literature, and Civilization of Spain at Princeton University and a member of the American Academy of Arts and Sciences.

The daughter of Cuban exiles, Anna Kushner was born in Philadelphia and has been traveling to Cuba since 1999. She has translated the novels of Norberto Fuentes, Guillermo Rosales, and Gonçalo M. Tavares. She has also translated works by Marcial Gala, Mario Vargas Llosa, and Leonardo Padura, all published by Farrar, Straus and Giroux.
Praise For…
---
"A fascinating window, not only into Vargas Llosa's biography and break with Marxism, but also into the way in which literary fiction, given its moral, emotional, and psychological insights, can bring more truth to history than any mere recital of the facts." —David Mehegan, Arts Fuse

"An indispensable volume for fans of Vargas Llosa, Latin American literature, and the art of great writing." —Kirkus Reviews

"The Nobel laureate reveals a sharp intellect that seems most comfortable in the liminal spaces between the contrasting environments of fiction and journalism, Europe and South America, politics and poetics." —Brendan Driscoll, Booklist