Redemption Ark (The Inhibitor Trilogy #2) (Paperback)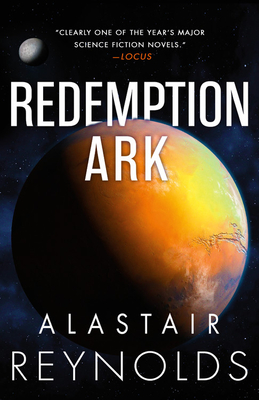 Other Books in Series
This is book number 2 in the The Inhibitor Trilogy series.
Description
---
In the second book of The Inhibitor Trilogy, Alastair Reynolds pushes the boundaries of science fiction and "confirms his place among the leaders of the hard-science space-opera renaissance" (Publishers Weekly).
Late in the twenty-sixth century, the human race has advanced enough to accidentally trigger the Inhibitors -- alien killing machines designed to detect intelligent life and destroy it. The only hope for humanity lies in the recovery of a secret cache of doomsday weapons -- and a renegade named Clavain who is determined to find them. But other factions want the weapons for their own purposes -- and the weapons themselves have another agenda altogether . . .
About the Author
---
Alastair Reynolds was born in Barry, South Wales, in 1966. He studied at Newcastle and St. Andrews Universities and has a Ph.D. in astronomy. he stopped working as an astrophysicist for the European Space Agency to become a full-time writer. Revelation Space and Pushing Ice were shortlisted for the Arthur C. Clarke Award; Revelation Space, Absolution Gap, Diamond Dogs, and Century Rain were shortlisted for the British Science Fiction Award, and Chasm City won the British Science Fiction Award.
Praise For…
---
"Clearly one of the year's major science fiction novels...The book Reynolds's readers have been waiting for."—Locus on Redemption Ark

"If you like hard SF...with fast-paced action and hard-boiled characters...you're in for a great ride."—SF Site on Redemption Ark

"The best of the new breed of space opera. Wild action on a grand scale spans well-imagined and developed worlds-bold and new with sharply defined differences in both characters and the changed definitions of humanity."—The Denver Post on Redemption Ark

"A large, sprawling tale of war, politics, ideology and alien invasion. Skilled narrative technique and well-developed characters make this a novel most readers will find absorbing."—Booklist on Redemption Ark

"With this complex, thoughtful sequel to his highly praised Revelation Space, British author Reynolds confirms his place among the leaders of the hard-science space-opera renaissance.... It's rare to find a writer with sufficient nerve and stamina to write novels that are big enough to justify using words like "revelation" and "redemption." Reynolds pulls it off."—Publisher Weekly on Redemption Ark