Revelation Space (The Inhibitor Trilogy #1) (Paperback)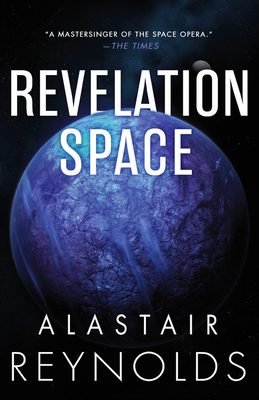 Other Books in Series
This is book number 1 in the The Inhibitor Trilogy series.
Description
---
This highly acclaimed first novel in the Revelation Space universe has redefined the space opera with a staggering journey across vast gulfs of time and space to confront the very nature of reality itself . . .
Nine hundred thousand years ago, something annihilated the Amarantin civilization just as it was on the verge of discovering space flight. Now one scientist, Dan Sylveste, will stop at nothing to solve the Amarantin riddle before ancient history repeats itself. With no other resources at his disposal, Sylveste forges a dangerous alliance with the cyborg crew of the starship Nostalgia for Infinity. But as he closes in on the secret, a killer closes in on him. Because the Amarantin were destroyed for a reason, and if that reason is uncovered, the universe and reality itself could be irrevocably altered . . .
"[A] tour de force... Ravishingly inventive." -- Publishers Weekly
About the Author
---
Alastair Reynolds was born in Barry, South Wales, in 1966. He studied at Newcastle and St. Andrews Universities and has a Ph.D. in astronomy. he stopped working as an astrophysicist for the European Space Agency to become a full-time writer. Revelation Space and Pushing Ice were shortlisted for the Arthur C. Clarke Award; Revelation Space, Absolution Gap, Diamond Dogs, and Century Rain were shortlisted for the British Science Fiction Award, and Chasm City won the British Science Fiction Award.
Praise For…
---
"A terrific treat. I was hooked from page one. Billion-year-gone alien wars, killer intelligences-and perhaps the most stunning and original alien artifact in modern science fiction-and all rendered with the authentic voice of a working scientist. Ferociously intelligent and imbued with a chilling logic-it may really be like this Out There."—Stephen Baxter on Revelation Space

"A delight. A refreshing and entertaining reconsideration of some of the genre's oldest tropes. An impressive first novel, quite possibly the space opera of the year."—Locus on Revelation Space

"Something new and exciting...absolutely first-rate."—The Cleveland Plain Dealer on Revelation Space

"This is science fiction on a large, cosmological scale, and Reynolds does not lack in big ideas...Many of the ideas in Revelation Space are awe-inspiring...cutting-edge and convincingly rendered."—SF Site on Revelation Space

"[A] sci-fi tour de force... Clearly intoxicated by cutting-edge scientific research in bioengineering, space physics, cybernetics Reynolds spins a ravishingly inventive tale of intrigue."—Publishers Weekly on Revelation Space