Episode Thirteen (Paperback)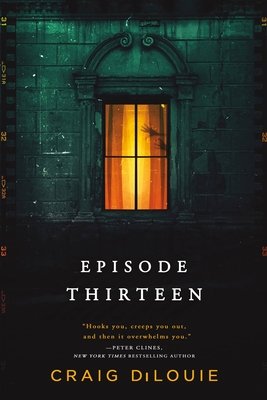 Description
---
From the macabre mind of a Bram Stoker Award-nominated author, this heart-pounding novel of horror and psychological suspense takes a ghost hunting reality TV crew into a world they could never have imagined.

Fade to Black is the newest hit ghost hunting reality TV show. Led by husband and wife team Matt and Claire Kirklin, it delivers weekly hauntings investigated by a dedicated team of ghost hunting experts.

Episode Thirteen takes them to every ghost hunter's holy grail: the Paranormal Research Foundation. This brooding, derelict mansion holds secrets and clues about bizarre experiments that took place there in the 1970s. It's also famously haunted, and the team hopes their scientific techniques and high tech gear will prove it. But as the house begins to reveal itself to them, proof of an afterlife might not be everything Matt dreamed of. A story told in broken pieces, in tapes, journals, and correspondence, this is the story of Episode Thirteen—and how everything went terribly, horribly wrong.

"An epistolary descent into a living nightmare . . . well-written and genuinely unsettling. Fans of paranormal documentaries, ghost-hunting shows, and found-footage horror will lose their minds over this one." —Kealan Patrick Burke, Bram Stoker Award winning author of Kin

"A beautiful Russian doll of a story… Episode Thirteen hooks you, creeps you out, and then it overwhelms you. It's House of Leaves meets Haunting of Hill House, in all the best possible ways."—Peter Clines, NYT bestselling author of The Broken Room

For more from Craig DiLouie, check out:
The Children of Red Peak
Our War
One of Us
About the Author
---
Craig DiLouie is an acclaimed American-Canadian author of literary dark fantasy and other fiction. Formerly a magazine editor and advertising executive, he also works as a journalist and educator covering the North American lighting industry. Craig is a member of the Imaginative Fiction Writers Association, International Thriller Writers and Horror Writers Association. He currently lives in Calgary, Canada with his two wonderful children.
Praise For…
---
With well-developed characters, a swiftly paced narrative, and mounting dread, this new twist on the ghost story will delight horror readers.—Booklist

"A smart, effective horror novel… Easily destined to be an award nominee, and hopefully a film … this is the first highly recommended novel of 2023."—Cemetery Dance

"A beautiful Russian doll of a story… Episode Thirteen hooks you, creeps you out, and then it overwhelms you. It's House of Leaves meets Haunting of Hill House, in all the best possible ways."—Peter Clines, NYT Bestselling Author of The Broken Room

"Ghost hunting crews, haunted mansions, forbidden experiments … Episode Thirteen has it all and then some. A twisting and turning puzzle of unsettling terror, Craig DiLouie has crafted a modern-day classic. It flat-out scared me!"—Richard Chizmar, author of Gwendy's Button Box and Chasing the Boogeyman

"Episode Thirteen does not go where you think it will…instead it offers bizarre twists, devious reveals, and unexpected shocks. Deeply satisfying and a hell of a lot of weird fun!"—Jonathan Maberry - New York Times Bestselling Author of Patient Zero

"An epistolary descent into a living nightmare . . . well-written and genuinely unsettling. Fans of paranormal documentaries, ghost-hunting shows, and found-footage horror will lose their minds over this one."

 —Kealan Patrick Burke, Bram Stoker Award-winning author of Kin

"Episode Thirteen is a suspenseful and engaging Rubik's Cube of a novel. The reader has great perverse fun twisting the pieces back and forth, facet after facet, until Craig DiLouie's grand design stands revealed in all its febrile splendor."—James Morrow, author of The Last Witchfinder

"It's the literary equivalent of a found footage movie, and it works beautifully. Part ghost story, part metaphysical horror, total nightmare — Episode Thirteen is a must read."—David Moody, author of Hater and the Autumn series

"In this transcendent ghost story for the 21st century, Craig DiLouie charts the mystery where science meets the supernatural then dives in headfirst to deliver a haunted house story so heartbreaking and profoundly unsettling it ranks alongside the classics of the genre."—James Chambers, Bram Stoker Award-winning author of On the Hierophant Road

"DiLouie follows a found-footage narrative before veering into gloriously mind-bending terror. . . .  In this subversion of the classic haunted-house/found-footage story, DiLouie demonstrates his ability to toy with and eventually upend readers' expectations."—Library Journal (Starred Review)

"With this chilling story of cult abuse, DiLouie proves his mastery of the slow slide from psychological drama into supernatural horror . . . . Horror readers will be hooked."—Publishers Weekly on The Children of Red Peak

"The Children of Red Peak is both a subtle character study and a chilling tale of horror. It goes deep into the heart of people caught up in terrifying events. Highly recommended."—Jonathan Maberry, New York Times bestselling author, on The Children of Red Peak

"A heart-wrenching, thought-provoking, terrifying tale about the meaning of life... A great choice for fans of Stephen Graham Jones' The Only Good Indians (2020), Paul Tremblay's Disappearance at Devil's Rock (2016), or Alma Katsu's The Hunger (2018)."—Booklist on The Children of Red Peak

"Absolutely riveting... A tapestry of past and present come together in this chilling tale of family, faith, and redemption. Craig DiLouie has a new fan."—J.D. Barker, international bestselling author of She Has A Broken Thing Where Her Heart Should Be, on The Children of Red Peak

"The Children of Red Peak is ice-in-your-heart, nerve-racking fantastic - Heaven's Gate by way of Stephen King's IT. Almost every page made my skin crawl."—Peter Clines, New York Times bestselling author of Paradox Bound and Terminus on The Children of Red Peak

"DiLouie really knows how to simultaneously shatter nerves and break hearts. The Children of Red Peak is a genuinely unsettling psychological horror novel, a story where faith and fear combine to destroy innocence and devastate lives. Intense, compulsive, thought-provoking, and highly recommended."—David Moody, author of the Hater and Autumn series, on The Children of Red Peak

"Readers will find The Children of Red Peak a fantastically creepy addition to their fall reads."—Nerd Daily on The Children of Red Peak

"One of the most powerful voices in dark fiction does it again! Craig DiLouie's The Children of Red Peak delivers a suspenseful and unpredictable psychological exploration of family, belief, and horror as chilling as it is thought-provoking. One of the best books of the year!"—James Chambers, Bram Stoker Award-winning author of On the Night Border, on The Children of Red Peak

"Unsettling, frighteningly ambiguous… a cult horror story that explores trauma, faith and the search for meaning in the aftermath of tragedy."—Shelf Awareness on The Children of Red Peak

"A dark mosaic of reality TV and occult physics, Episode Thirteen reels you in with a found-footage mystery that spirals into a labyrinth of madness. Craig DiLouie dissects his all-too-human characters' needs and ambitions with clinical precision as we race toward a series of stunningly beautiful—and horrifying—revelations."—Andy Marino, author of It Rides a Pale Horse and The Seven Visitations of Sydney Burgess