Coup d'Etat: A Dewey Andreas Novel (Mass Market)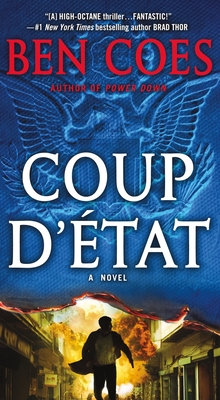 Other Books in Series
This is book number 2 in the A Dewey Andreas Novel series.
Description
---
Coup d'Etat

Ben Coes

When a fragile peace breaks down between Pakistan and India, the United States is forced to intervene. When a rapidly escalating war threatens to engulf the entire region, the president must find a way to shut it down immediately—or else face total destruction for the world at large.



With the clock ticking and Pakistan in the hands of a religious radical willing to do anything and risk everything to achieve his deadly plan, there is only one man with the skills and experience to infiltrate the live war theater and successfully execute a nearly impossible, unbelievably daring plan. His name: Dewey Andreas. His mission: to remove the Pakistani president from power. Now all the White House has to do is find him…before time runs out.

This edition of the book is the deluxe, tall rack mass market paperback.
About the Author
---
BEN COES is the author of the critically acclaimed Power Down and Coup d'Etat. He is a former speechwriter for the George H .W. Bush White House, worked for Boone Pickens, was a fellow at the JFK School of Government at Harvard, a campaign manager for Mitt Romney's run for governor in 2002, and is currently a partner in a private equity company out of Boston. He lives in Wellesley, Mass.
Praise For…
---
"High concept meets high octane in this brilliantly executed thriller. Envision Clancy, Forsyth, and le Carré all writing in their prime…then kick in the boosters. Coup d'État is fantastic and Ben Coes blows the competition away!" —#1 New York Times bestselling author Brad Thor

"This exciting sequel to Power Down explores an all-too-plausible conflict…the plot sizzles with action, and the details have an authentic ring that put this thriller a cut above the pack." —Publishers Weekly

"Will keep you up at night--first with the titillation of a great read, then with dread that Ben's plot might not be all that imaginary. A sumptuous dessert for a thriller reader." —Brian Haig, author of The Capitol Game