Scene of the Crime: A Novel (The Margellos World Republic of Letters) (Hardcover)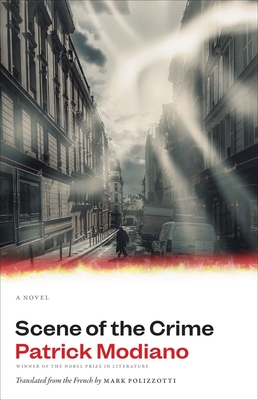 Description
---
A haunting novel that probes the enigmas of time and memory, by Nobel Prize–winning author Patrick Modiano
 
"Polizzotti's crisp and evocative translation keeps the reader hooked."—Publishers Weekly
 
In his acclaimed semi-autobiographical novella Suspended Sentences, Patrick Modiano recounted a dramatic season in his childhood, of the home he shared with sinister surrogate parents, the mysterious events that took place there, and an infamous heist that was never solved.
 
In Scene of the Crime, Modiano conjures the aftermath of those years. A decade has passed, and Jean Bosmans, now in his early twenties, becomes aware of a set of disturbing coincidences involving an elusive woman, his childhood home, and a host of disquieting characters who seem inordinately interested in his past, for reasons he can't fathom. As he journeys into the echoes of memory, past and present become increasingly intertwined, forming a web spanning half a century.
 
With the taut suspense of a detective novel, this book slowly peels away layers of time and forgetfulness to reveal the haunting, threatening, ultimately tragic legacies of what we think we know about our lives.
About the Author
---
Patrick Modiano, winner of the 2014 Nobel Prize in Literature, was born in Boulogne-Billancourt, France, in 1945, and published his first novel, La Place de l'Etoile, in 1968. His previous books include Invisible Ink, Sleep of Memory, and Family Record. He lives in Paris. Mark Polizzotti has translated more than fifty books from French. He lives in Brooklyn, NY.
Praise For…
---
"Scene of the Crime, evocatively translated by Mark Polizzotti, unravels in a bygone Paris enveloped in a fog of déjà vu and vertigo. . . . Modiano, whose writing is heightened by elisions and silent pauses, is a master at creating mood. His Paris is aglow with noirish menace, a perfect palimpsest for [narrator] Bosmans's memories."—Anderson Tepper, New York Times Book Review

"Elegiac, bittersweet, ghostly, Modiano's books are like black-and-white photographs from another century, suggestive of all that's been lost and the vague traces that remain. . . . Scene of the Crime [is] gracefully translated by Mark Polizzotti. . . . Modiano's prose is hypnotic, pregnant with mystery, full of dialogue that contains more than it shows."—Frank Lawton, Telegraph

"Polizzotti's crisp and evocative translation keeps the reader hooked."—Publishers Weekly

"An interrogation of the past and of time itself. . . . Modiano's prose is mesmerizing as ever. . . . The story plays out with the intrigue of a good noir, with an unsurpassed depth of feeling and curiosity."—Dwyer Murphy, CrimeReads