Everything Is Possible: Antifascism and the Left in the Age of Fascism (Hardcover)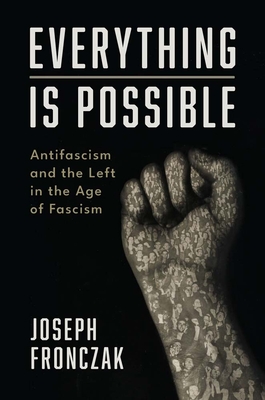 Description
---
The fascinating history of how the antifascist movement of the 1930s created "the left" as we know it today
 
In the middle years of the Great Depression, the antifascist movement became a global political force, powerfully uniting people from across divisions of ideology, geography, race, language, and nationality. Joseph Fronczak shows how socialists, liberals, communists, anarchists, and others achieved a semblance of unity in the fight against fascism. Depression-era antifascists were populist, militant, and internationalist. They understood fascism in global terms, and they were determined to fight it on local terms. In the United States, antifascists fought against fascism on the streets of cities such as Chicago and New York, and they connected their own fights to the ones raging in Germany, Italy, and Spain.
 
As he traces the global trajectory of the antifascist movement, Fronczak argues that its most significant legacy is its creation of "the left" as we know it today: an international conglomeration of people committed to a shared politics of solidarity.
About the Author
---
Joseph Fronczak is an associate research scholar and lecturer in the Department of History at Princeton University. He lives in Princeton, NJ.
Praise For…
---
"Fronczak crafts a compelling, convincing, and often surprising origin story of the Left we know today."—Steve Nathans-Kelly, New York Journal of Books

"This stimulating and insightful volume is the first global and transnational history of antifascism during the mid-1930s. The author's linguistic abilities and historiographical acumen have created a vital book on the subject."—Michael Seidman, author of Transatlantic Antifascisms

"In stunning prose, Joseph Fronczak re-creates the extraordinary birth of the modern left, speaking across generations to our own time."—Beverly Gage, Yale University

"Elegantly written and meticulously researched, Everything Is Possible is one of those rare books that has the boldness to assert what was in front of our faces the whole time."—Christopher Vials, author of Haunted by Hitler

"Fronczak gives fascism content again, examining it as a practice, a perspective that can help us understand the present and past. He reveals a global fascist network, beyond Europe and Japan, and American participation in it. An extremely valuable historical interpretation."—Linda Gordon, New York University

"Carefully documented and limpidly written, Joseph Fronczak's book is much more than a magisterial history of antifascism as a global movement; it is a critical and inspiring insight into the identity of the Left. A timely meditation."—Enzo Traverso, author of Revolution