Worker Leadership: America's Secret Weapon in the Fight for Industrial Competitiveness (Hardcover)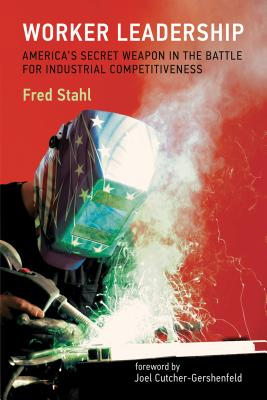 $9.99
This title is likely Out of Print or otherwise unavailable
Description
---
How to increase both job satisfaction and enterprise productivity--and make American manufacturing competitive again.
How can American manufacturing recapture its former dominance in the globalized industrial economy? In Worker Leadership, Fred Stahl proposes a strategy to boost enterprise productivity and restore America's industrial power. Stahl outlines a revolutionary transformation of industrial culture that offers workers real control of production operations and manufacturing processes (as well as a monetary share of the savings from productivity gains). Stahl develops this new Theory of Worker Productivity into a strategy of Worker Leadership, with concrete, real-world examples.
Combining some of the methods of lean manufacturing made famous by Toyota with genuine worker empowerment unlike anything at Toyota, Worker Leadership creates highly productive jobs loaded with responsibility and authority. Workers, Stahl writes, love these jobs precisely because of the opportunities to be creative and productive. Worker Leadership also offers important benefits for organized labor. It promotes the vitality and growth of labor unions through a shared responsibility with management for growth and profitability.
Stahl's approach was inspired by changes implemented at John Deere factories by a general manager named Dick Kleine. Stahl uses the story of Kleine's transformation of the Deere factories to construct a checklist of essential conditions for Worker Leadership. He also discusses competition with China and South Korea and tells the story of production that GE recently "reshored" from China to the United States. Stahl considers the potential for applying Worker Leadership beyond manufacturing, provides a brief history of manufacturing, and even reveals the dark side of Toyota's system that opens another competitive opportunity for America.
Worker Leadership offers a blueprint for global competitive advantage that should be read by anyone concerned about America's current productivity paralysis.
About the Author
---
Fred Stahl is a former Boeing Company Executive, an early leader of MIT's Lean Aircraft Initiative, and a coauthor of Lean Enterprise Value: Insights from MIT's Lean Aerospace Initiative.