The Operation Reinhard Death Camps: Belzec, Sobibor, Treblinka (Paperback)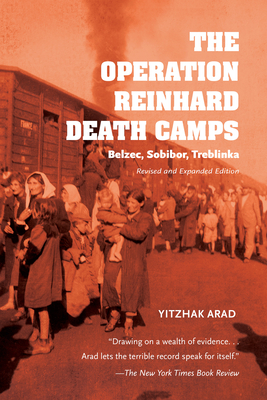 $30.00

Backordered to the Publisher - May not be immediately available! Contact us for more information.
Description
---
Under the code name Operation Reinhard, more than one and a half million Jews were murdered between 1942 and 1943 in the concentration camps of Belzec, Sobibor, and Treblinka, located in Nazi-occupied Poland. Unlike more well-known camps, which were used both for slave labor and extermination, these camps existed purely to murder Jews. Few victims survived to tell their stories, and the camps were largely forgotten after they were dismantled in 1943. The Operation Reinhard Death Camps bears eloquent witness to this horrific tragedy.

This newly revised and expanded edition includes new material on the history of the Jews under German occupation in Poland; the execution and timing of Operation Reinhard; information about the ghettos in Lublin, Warsaw, Krakow, Radom, and Galicia; and updated numbers of the victims who were murdered during deportations. In addition to documenting the horror of the camps, Yitzhak Arad recounts the stories of those courageous enough to struggle against the Nazis and their "final solution." Arad's work retrieves the experiences of Operation Reinhard's victims and survivors from obscurity and exposes a terrible chapter in humanity's history.
About the Author
---
Yitzhak Arad has written many books, including In the Shadow of the Red Banner, Ghetto in Flames: The Struggle and Destruction of the Jews in Vilna in the Holocaust, and Pictorial History of the Holocaust. He served as Director (Chairman of the Directorate) of the International Council of Yad Vashem, Holocaust Remembrance Authority, for 21 years.