March Women March: How Women Won the Vote (Hardcover)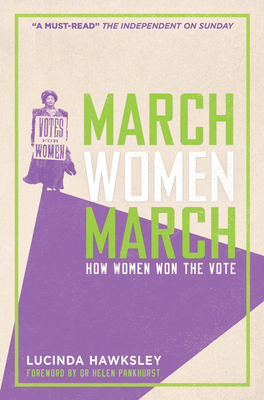 Description
---
A lively look at the British suffragettes who fought to win women the vote.
March, Women, March explores the women's movement in Britain, and the courageous rebels who refused to accept their exclusion from political life. Beginning with the publication of Mary Wollstonecraft's A Vindication of the Rights of Women in 1792 and moving to the suffragettes of the early twentieth century and beyond, Lucinda Hawksley traces the fight for equal rights. Her fascinating narrative incorporates diary extracts and letters that bring the movement's main protagonists back to life, and examines how suffragettes were portrayed in literature, art, and the contemporary media.
About the Author
---
Lucinda Hawksley's interest in the history of the women's movement increased after researching the lives of several fascinating women of the nineteenth and early twentieth centuries. Her biographies of women include Lizzie Siddal: The Tragedy of a Pre-Raphaelite Supermodel (Andre Deutsch); Katey: The Life and Loves of Dickens's Artist Daughter (Doubleday UK); and the critically acclaimed biography The Mystery of Princess Louise: Queen Victoria's Rebellious Daughter (Vintage). Lucinda is the great-great-great grandaughter of Charles Dickens and is a regular speaker at the National Portrait Gallery in London.