Feminisms: A Global History (Hardcover)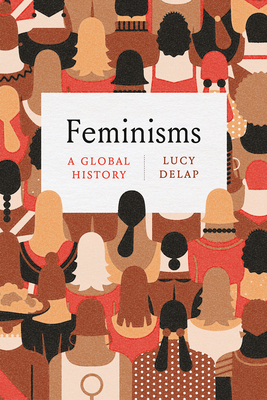 Description
---
Feminism's origins have often been framed around a limited cast of mostly white and educated foremothers, but the truth is that feminism has been and continues to be a global movement. For centuries, women from all walks of life have been mobilizing for gender justice. As the last decade has reminded even the most powerful women, there is nothing "post-feminist" about our world. And there is much to be learned from the passion and protests of the past.

Historian Lucy Delap looks to the global past to give us a usable history of the movement against gender injustice—one that can help clarify questions of feminist strategy, priority and focus in the contemporary moment. Rooted in recent innovative histories, the book incorporates alternative starting points and new thinkers, challenging the presumed priority of European feminists and ranging across a global terrain of revolutions, religions, empires and anti-colonial struggles.

In Feminisms, we find familiar stories—of suffrage, of solidarity, of protest—yet there is no assumption that feminism looks the same in each place or time. Instead, Delap explores a central paradox: feminists have demanded inclusion but have persistently practiced their own exclusions. Some voices are heard and others are routinely muted. In amplifying the voices of figures at the grassroots level, Delap shows us how a rich relationship to the feminist past can help inform its future.
About the Author
---
Lucy Delap is reader and deputy chair of the Faculty of History at the University of Cambridge. She is the author of The Feminist Avant-Garde: Transatlantic Encounters of the Early Twentieth Century and Knowing Their Place: Domestic Service in Twentieth-Century Britain.
Praise For…
---
"Delap's chapters compose a journey through time and space more circular than linear—a carousel ride in which the ups and downs are as much a part of the trip as the forward movement. . . . [She] offer[s] fascinating snapshots from an astonishing archive of academic studies. . . . Each chapter finds its own path geographically and temporally—composing a pageant that runs from the speculum to the hijab, from the German League for the Protection of Motherhood to Radicalesbians, from breaking windows to singing, from bloomers to zines. Delap is not only applauding, however. She means to write a critical history, and assesses the gains and disadvantages of various methods and strategies, quite aware that projects of feminist intent do not ipso facto vanquish inequalities imposed by class, race, colonialism, or citizenship status. Some women's dreams are nightmares for others. . . . Delap examines several such sobering incidents to encourage contemporary and future feminists to be wary of repeating past mistakes."
— New York Review of Books

"Magisterial. . . . Brilliantly surveys three centuries of activism across multiple continents."
— History Today, Books of the Year 2020

"This outstanding work . . . takes a thematic approach to the topic of global feminist history to provide a unified vision that maintains appropriate nuance. . . . It's masterful."
— Jana Byars

"Delap offers a new and wide-ranging account of the global history of feminisms, drawing on an innovative range of sources to explore the rich, diverse and radical roots of feminist movements across time and space. Addressing the powerful contributions of feminisms while also examining their limitations, exclusions and complicities, this book is a triumph of feminist historiography that shows the innumerable different ways of imagining women's freedom around the world. . . . We are taken on a journey that includes figures and events that would not have been classified as feminist at the time of their occurrence, stretching from colonial West Africa to Imperial Japan, and through an innovative use of source material ranging from political pamphlets to zines and songs. . . . In its interconnected narrative, [her book is] a powerful political argument about what feminism is (or should be). And indeed, as her title reminds us, feminism has never just been one thing. There were, and remain, innumerable different ways of imagining women's freedom around the world. Far too many to be reduced to a slogan on a t-shirt."
— LSE Review of Books

"The big, global story of the many feminisms on our planet today. . . . This is a fantastic book [that] everyone should go check out. . . . Even feminists I know who have been studying feminism for a very long time would get a lot out of this book. This really is an incredible work."
— This Is Hell!

"Delap recognizes the feminists who were lost in the relaying of the history of the women's movement or who were prevented from joining it in the first place. . . . Feminisms provides insight into the concept itself and provides the opportunity to address the complexity of the feminist movement, the fragmentation within feminism attributable to its visibly western-centric perspective, and the experiences of forgotten and ignored feminists. The book adds to the discourse on social construction and highlights the significance of inclusion and the corresponding bias that results with the adoption of a single perspective. Outside of the discussion of feminism, Delap's thematic approach is a reminder that there are more voices than the ones being heard; this is a lesson in itself."
— Journal of International Women's Studies

"A sweeping challenge to feminist histories . . . . It provides a nuanced account that recognizes feminism's deep fragmentations as well as its racial, gendered, and classed hierarchies. . . . The book's main contribution to critical global and transnational feminist histories is that it unearths patterns of feminism in creative, often unexpected ways. . . . Feminisms successfully disrupts the existing historiography. Ultimately, Delap's thematic, non-chronological approach to feminisms opens up creative new starting points for further research and exploration."
— H-Soz-Kult

"A truly global history, dealing with 250 years of feminisms. . . . This path-breaking book is an essential read. . . . Delap's understanding of feminisms around the world offers fascinating insights, based on innovative sources, establishing this volume as a landmark work in the current historiography, and one that is both accessible to the experts in the field and inspiring for a broader audience."
— Reviews in History

"An impressive attempt to dissect the complexity of feminist pasts."
 
— Gender Security Project

"This is an extraordinary and beautiful history of the global struggles against the injustices of gender. It brings the battles of feminists to life, not only through their ideas and campaigns, but also their dreams, songs, anger, and the material dimensions of their activism—their bloomers, badges, and veils, their refuges, workplaces, and borderlands."
— Hannah Dawson, King's College London

"Delap wields the concept of feminism to show how activists 'politicize the injustices of gender' across 250 years and six continents. Attentive to the blind spots and complicities of many feminist ventures, she also recognizes its affinities and resonance across generations, geographies, and genders. This brilliant book probes feminism's meanings and materializations through chapters on dreams, feelings, objects, and songs as well as ideas, looks, spaces, and actions."
— Nancy A. Hewitt, author of Radical Friend: Amy Kirby Post and Her Activist Worlds

"Delap provides a concise but thorough history of the variety of feminist movements that have formed over the last century, bringing a sense of shared vision and voice to a diverse history without forcing a false unity."
— Carla Jones, University of Colorado Boulder

"Delap's telling is unique amongst histories of feminism. As it tears across the globe, Feminisms reveals familiar organizations, projects, agitators, and obstacles in new garb and places them alongside ones conventionally overlooked. Start with any chapter and savor every generous, undogmatic page."
— Bonnie G. Smith, Board of Governors Distinguished Professor Emerita of History, Rutgers University

"A brilliant work of feminist scholarship that is global in scope, rigorous in analysis, and inviting in its storytelling."
— Hyaeweol Choi, author of Gender Politics at Home and Abroad: Protestant Modernity in Colonial-Era Korea