Volcanoes and Wine: From Pompeii to Napa (Hardcover)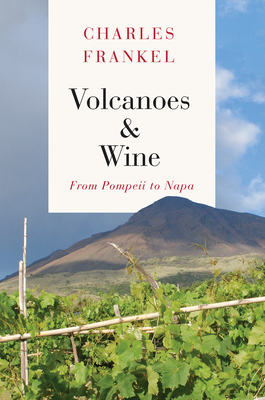 $27.50
Available from our Distributors - Usually arrives in-store in 2-7 days
Description
---
There's a reason we pay top dollar for champagne and that bottles of wine from prestige vineyards cost as much as a car: a place's distinct geographical attributes, known as terroir to wine buffs, determine the unique profile of a wine—and some rarer locales produce wines that are particularly coveted. In Volcanoes and Wine, geologist Charles Frankel introduces us to the volcanoes that are among the most dramatic and ideal landscapes for wine making.
            Traveling across regions wellknown to wine lovers like Sicily, Oregon, and California, as well as the less familiar places, such as the Canary Islands, Frankel gives an in-depth account of famous volcanoes and the wines that spring from their idiosyncratic soils. From Santorini's vineyards of rocky pumice dating back to a four-thousand-year-old eruption to grapes growing in craters dug in the earth of the Canary Islands, from Vesuvius's famous Lacryma Christi to the ambitious new generation of wine growers reviving the traditional grapes of Mount Etna, Frankel takes us across the stunning and dangerous world of volcanic wines. He details each volcano's most famous eruptions, the grapes that grow in its soils, and the people who make their homes on its slopes, adapting to an ever-menacing landscape. In addition to introducing the history and geology of these volcanoes, Frankel's book serves as a travel guide, offering a host of tips ranging from prominent vineyards to visit to scenic hikes in each location.
            This illuminating guide will be indispensable for wine lovers looking to learn more about volcanic terroirs, as well as anyone curious about how cultural heritage can survive and thrive in the shadow of geological danger.
About the Author
---
Charles Frankel is a science writer and lecturer specializing in geology, volcanology, and terroir. He is the author of many books in French and English, including Land and Wine: The French Terroir, also published by the University of Chicago Press.
Praise For…
---
"Packed with interesting information. . . . Frankel [a]lso includes details of opportunities for the roving imbiber, mentioning that anyone braving a particularly chilly Sicilian cellar will need to bring a sweater and that one of the pioneers of Vesuvian wine tourism puts on a 'well-oiled' lunch that concludes with apricot liqueur."
— Henry Hitchings
"Geologist Charles Frankel goes looking for answers in Volcanoes and Wine, blending history, geology, and viniculture in an illuminating tour of some of the most curious winegrowing locales on earth...Frankel's book is well-researched, with the right blend of history, science, and wine."
— Terroirist
"Volcanoes and Wine is a joyous celebration of the circumstances that produce some of the world's most venerated wines."
— New Scientist
"This book takes readers to seven wine-growing regions in Europe and North America to explore the unique emergence of viticulture on volcanoes. Greece, Italy, France, Spain, and the Pacific Northwest of the United States have wineries that have produced important wines. Beginning with antiquity, science writer Frankel traces the establishment of grape cultures and production in the regions associated with the island of Santorini, on Mount Vesuvius and Mount Etna, and in Italy's Aeolian Islands; in the ancient rift valleys of France, the Canary Islands, and later in the Napa and Willamette valleys in the US; in the Channeled Scablands of the Columbia River basin; and even in Hawaii. For each region, Frankel elaborates on the geologic, climatological, and hydrologic processes that created conditions conducive to wine production and points out the challenges of maintaining vineyards in seismically and volcanically active settings. Growers who contend with lava flows, ash-depositing eruptions, and dangerous gas emissions have developed and maintained production of unique and high-quality wines featuring a diversity of varietals and hybrid cultivars. The work is a novel exploration of the practices of wine growing under similar conditions over 3,000 years. Each chapter concludes with suggestions for traveling to and exploring the region of interest."
— Choice