Trafficking Data: How China Is Winning the Battle for Digital Sovereignty (Hardcover)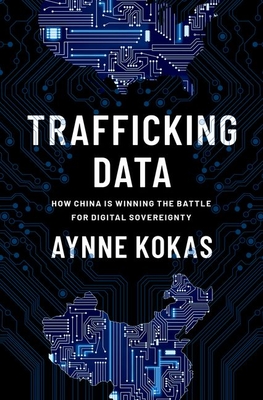 $27.95

Available from our Distributors - Usually arrives in-store in 2-7 days
Description
---
Bronze Award, Axiom Business Book Awards
Gold Medalist in Finance/Investing/Economics, Ippy Awards From TikTok and Fortnite to Grindr and Facebook, Aynne Kokas delivers an urgent look into the technology firms that gather our data, and how the Chinese government is capitalizing on this data flow for political gain. On August 6, 2020, the Trump Administration issued a ban on TikTok in the United States, requiring that the owner, Beijing-based Bytedance, sell the company to American investors or shut it down. Legions of TikTokers were devastated at the possible loss of their beloved platform, and for what: a political grudge with China? American suitors like Walmart and Oracle tried to make a deal with Bytedance to keep the platform operating in the US. But then something curious happened. The Chinese government refused to let Bytedance sell TikTok on national security grounds. As it turns out, the pandemic era platform for dance challenges is a Chinese government asset.
As digital technologies and social media have evolved into organizing forces for the way in which we conduct our work and social lives, the business logic that undergirds these digital platforms has become clear: we are their product. We give these businesses information about everything--from where we live and work to what we like to do for entertainment, what we consume, where we travel, what we think politically, and with whom we are friends and acquaintances. We do this willingly, but often without a full understanding of how this information is stored or used, or what happens to it when it crosses international boundaries. As Aynne Kokas argues, both corporations and governments "traffic" much of this data without our consent--and sometimes illegally--for political and financial gain. In Trafficking Data, Aynne Kokas looks at how technology firms in the two largest economies in the world, the United States and China, have exploited government policy (and the lack thereof) to gather information on citizens, putting US national security at risk. Kokas argues that US government leadership failures, Silicon Valley's disruption fetish, and Wall Street's addiction to growth have fuelled China's technological goldrush. In turn, American complacency yields an unprecedented opportunity for Chinese firms to gather data in the United States and quietly send it back to China, and by extension, to the Chinese government. Drawing on years of fieldwork in the US and China and a large trove of corporate and policy documents, Trafficking Data explains how China is fast becoming the global leader in internet governance and policy, and thus of the data that defines our public and private lives.

About the Author
---
Aynne Kokas is an Associate Professor of Media Studies at the University of Virginia and the C.K. Yen Chair at the University of Virginia's Miller Center. For over twenty years she has researched trade between the US and Chinese markets as a management consultant, professor, Fulbright scholar, and employee of Fortune 500 companies. She is the author of the award-winning book Hollywood Made in China. Her research has been featured in The New York Times, NPR, BBC World News, the Financial Times, Slate, and Bloomberg, and in over fifty countries around the world.